Police team triumph at VUE Emergency Services National Triathlon Championships
Police team triumph at VUE Emergency Services National Triathlon Championships
Monday, 17 June, 2013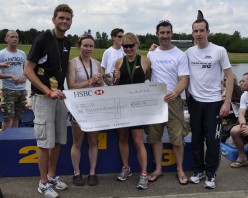 The winning police team at the VUE Emergency Services National Triathlon Championships
A TEAM of athletes representing the police beat off stiff competition from other emergency services to be crowned the champions of this year's VUE Emergency Services Triathlon.
The police team, made up of Jon Worcester, Paul George, Andrew McGhee, Scott Patrick, Libby Free and Rachel Short fought off tough competition from the Fire Service to take first place.
The winning team was awarded £1,000 for its chosen charity, Care of Police Survivors (COPS). 243 emergency services personnel took part in VUE's fifth triathlon at the National Water Sports Centre in Nottingham on 31st May 2013. VUE is the UK's leading in-vehicle CCTV systems specialist and has been providing bespoke CCTV systems to emergency services fleets for more than 10 years.
Jon Worcester crossed the finishing line first completing the 750 metre swim, 20 kilometre bike ride and 5 kilometre run in an impressive 59 minutes and 12 seconds. Steve Clark, from the Fire Service, came in second in one hour, one minute and 12 seconds and Simon Brierley, also from the Fire Service, was third finishing in one hour, one minute and 16 seconds.
Libby Free from the police, secured the fastest female spot, finishing in one hour, eight minutes and 24 seconds. Rachel Short, representing the police came second and Nicola Davies from the NHS took third place.
The fastest relay team was once again defended by the RNLI Lifeguards for the third year running, finishing in one hour, one minute and 37 seconds. Two Derbyshire fire service teams took second and third places in the relay.
Glen Mullins, managing director of VUE, said: "Congratulations to all who took part in the competition. Each year the times get quicker and the competition heats up. It's fantastic to see emergency services competing together in the aid of good causes."
Chloe Taylor-Jones, from the South Central Ambulance Service, was the competitor who raised the most money, raising £671 for the Ambulance Services Benevolent Fund. As the highest fundraiser Chloe won a Claud Butler Echelon road bike, donated by Claud Butler, and three months of triathlon coaching, given by Off That Couch Fitness.
For more information on the results of the VUE Emergency Services National Triathlon Championships and entry information for next year's competition, visit: www.vue-cctv.co.uk