Making an impact
Making an impact
Friday, 14 June, 2013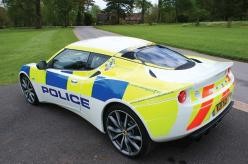 Lotus Evora S attracting attention
Devon and Cornwall Police have a new addition in the drive for safer roads in the shape of a Lotus sports car. The Lotus Evora has been emblazoned with the official Force livery and has been doing the rounds at public events across Devon
and Cornwall.
The £50,000 vehicle is being used by officers at public events to increase community engagement and to raise road safety awareness.
Sgt Owen Messenger who borrowed the car from Lotus free of charge said: "We have taken the car to a few events now and the response has been overwhelming.
People literally flock to it. It's a stunning looking car and with the police badges
it's very unusual!" The attention it generates gives Sgt Messenger and his team the opportunity to discuss road safety initiatives with people who might otherwise not engage with police.