Double Appointments
Double Appointments
Friday, 14 June, 2013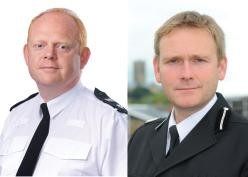 Phil Kay & Roger Bannister
Leicestershire Police has appointed two new Assistant Chief Constables.
Roger Bannister, who is currently temporary Assistant Chief Constable with
Lincolnshire Police, will take over the role of Assistant Chief Constable (Crime) and Phil Kay, currently a Chief Superintendent with West Midlands Police, will transfer to Leicestershire Police as Assistant Chief Constable (Operations).
On announcing the appointments, Simon Cole, Chief Constable of Leicestershire Police, said: "I am delighted to welcome Roger and Phil to Leicestershire and am very much looking forward to working with them. I know they will bring new skills and experience to the Force and am confident they will lead us through many of the challenges we face over the coming years."
Roger and Phil will take up their new roles in the near future and will replace
Assistant Chief Constable Steph Morgan and Temporary Assistant Chief Constable Chris Thomas who both intend to retire from the police service in the next few months.