35 Years' Special Service
35 Years' Special Service
Friday, 14 June, 2013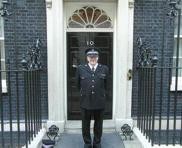 Special Constabulary Inspector Ron McMurdie
Hertfordshire's Special Constabulary Inspector Ron McMurdie celebrated 35 years' volunteering service with a special visit to Downing Street recently.
Ron, who joined the Special Constabulary in 1978, was first posted to Watford. In 1980 he was transferred to Rickmansworth as a Sergeant and promoted to his current post as Inspector in 1982.
To celebrate his 35 years, Treasury Minister David Gauke MP arranged a visit for Ron and his Special Sergeant, Andy Kowalski to visit the Houses of Parliament. The visit, which took place on 23 April, also saw the pair visit 10 Downing Street.
Ron said: "I have really enjoyed the past 35 years. I've been involved in some very memorable moments, which I will never forget. The most memorable was representing Herts Police on parade at the Cenotaph in Whitehall in 2010, watching all the old soldiers march past the cenotaph, and then marching past the cenotaph ourselves. It was a day I will never forget!
"The saddest moment I have been involved in was the funeral of Princess Diana, standing on the M1 at Junction 6 with thousands of mourners watching the funeral cortege drive past."
Chief Inspector for Three Rivers, Catherine Akehurst said: "I am extremely proud to have Ron. He's an extremely dedicated and experienced officer, who is passionate about the work he does. Congratulations Ron on your 35 years' service!"