PCSO retires after ten years on the Blackburn beat
PCSO retires after ten years on the Blackburn beat
Thursday, 25 April, 2013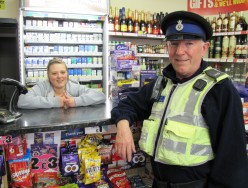 A WELL known PCSO, who has spent over ten years working on the beat in Blackburn, has retired.

Walter Roberts began his career as a PCSO in 2004 working in the Brookhouse and Bastwell areas before joining the Mill Hill, Griffin and Galligreaves neighbourhood police team.

The 64-year-old, who was once given an award by the High Sheriff for his services to the community, has dealt with many incidents whilst working as a PCSO - from tackling anti social behaviour and confiscating mini motos to challenging a violent shoplifter and uncovering a huge bag of cannabis which was hidden in a field.

He said: I've really enjoyed my time working in Blackburn. I've worked with some nice people both in work and the community. It's been a challenging and fantastic career but I've worked a long time and I'm looking forward to my retirement.

Chief Superintendent Bob Eastwood added: Walter has been a well known and influential officer. He has done a lot of work to help improve the quality of life for those living and working in Blackburn and he should be proud of his service. He will be missed by both the community and his colleagues and we wish him well for the future.

Walter is now planning on enjoying his retirement and spending time with his wife, two daughters and three grandchildren.