New defibrillators and first aid kits installed in police vehicles
New defibrillators and first aid kits installed in police vehicles
Thursday, 25 April, 2013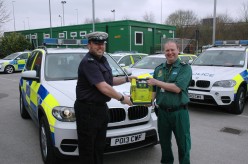 PC Julian Berry being handed a defibrillator from North West Ambulance Service Community Resuscitation Manager Mark Evans
OFFICERS who patrol the countys roads and motorways have teamed up with the North West Ambulance Service (NWAS) to potentially save the lives of accident victims on Lancashires roads.

Defibrillators and specialist first aid kits have been fitted in six police vehicles for officers to give roadside assistance to injured people.

Three of the machines have been provided by NWAS, with the others funded by the Lancashire Constabulary Road Safety Initiative, and will allow roads policing officers to automatically diagnose and treat life threatening cardiac arrhythmias, allowing the heart to re-establish an effective rhythm until an ambulance arrives at the scene to treat the victim.

Inspector Andy Trotter, from the Roads Policing Unit said: Our roads policing officers patrol 270 miles of motorway, along with rural roads, which are often far away from immediate ambulance reach.

It is hoped that the arrival of the new defibrillators and first aid kits could really help our officers save lives at the scene of road collisions until assistance from our ambulance colleagues arrives.

NWAS Community Resuscitation Manager Mark Evans for Cumbria and Lancashire said; We are delighted that Lancashire Constabulary are on board with this initiative which will ultimately equip patrol officers to potentially save lives. In the event of a person suffering cardiac arrest, quick action must be taken to give the patient the best chance of survival. It is proven that in every minute that passes without intervention, the chances of survival deceases by up to 14 per cent. Effective CPR and defibrillation ensures the patient has the best chance of survival.

The first aid kit contains a tourniquet and blood clotting packs which are used to stem life-threatening continuous bleeding.

70 officers have had or will receive training from NWAS over the next few weeks in how to use the defibrillator devices effectively.

The police cars that hold the kits are based at the Force Roads Policing Unit at Salmesbury, patrolling and attending incidents on the countys motorways and road networks.