Cop's novel idea
Cop's novel idea
Wednesday, 17 April, 2013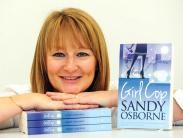 Girl Cop by Avon and Somerset Detective, Sandy Osborne


Girl Cop is Avon and Somerset Detective, Sandy Osborne's debut novel. It is a fictional rom-com, following the life and loves of an officer on the beat. Set in Bath and loosely based on Sandy's experiences as a young constable.

Sandy used the collar number of a late colleague, Andrew Cuff for her love interest in the novel who lost his battle against cancer in 2011. Sandy donates a percentage of sales to St Peter's Hospice in Bristol who cared for Andrew and The Police Dependant's Trust also benefits from her work.

"It has taken me five years to make my dream of being published a reality," says Sandy. "I am so proud to finally see my novel on the shelves and be able to support my favourite charities from the proceeds." Sandy fits in her writing around being fulltime mum whilst juggling a career in the force and has recently received her 21 year Long Service and Good Conduct Award.

Sandy has started to write the sequel and intends to take Girl Cop further with the whole tale turning into a trilogy.