Axel is top dog
Axel is top dog
Wednesday, 17 April, 2013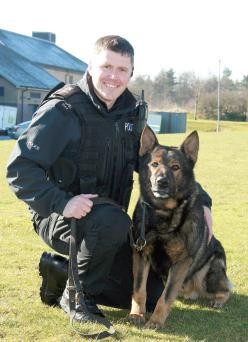 PC Craig Menzies with PD Axel


A dog trained by West Midlands Police has won a prestigious Crufts award in recognition of its incredible four-hour long track, which led handlers to a missing woman who'd fallen down a ravine.

German shepherd Axel - now with Fife Police after 'graduating' from West Midlands Police's breed scheme - found the 58-year-old walker in remote woodland having followed her scent over several miles.

The woman had stumbled down a 60-foot ravine and had it not been for PD Axel's search skills, may not have survived the fall.

Dog Handler PC Craig Menzies and PD Axel - pictured during a West Midlands Police 'Puppy Day' - collected the 2012 Police Dog Humanitarian Action Award at Crufts on 10 March. West Midlands Police dog trainer Dave Raymond, said: "Axel was born and trained here until he was 18 months old. I remember he had exemplary working qualities, was a great chaser, very determined and had an excellent nose - but even by his high standards this was an incredible track over many hours and a considerable distance."

PC Menzies located the missing woman's umbrella on a coastal path, which allowed PD Axel to detect her scent and commence his marathon track. He directed his handler across a golf course, a swollen stream and eventually to bushes where the woman's faint cries for help were heard.

Dave Raymond, added: "Axel's 'dad' is our main stud dog, Tag. He was chosen for his impeccable temperament and work skills...qualities he's since passed on to more than 100 of his offspring who are now operational police dogs helping fight crime and, in Axel's case, track missing people."

West Midlands Police runs the largest, most successful police dog breed scheme in the UK with more than 80 per cent of all dogs going through the training programme becoming operational and helping combat crime.

Some are sold to other police forces as operational dogs, whilst ones that don't make the grade go on to become working dogs - on farms or with security firms - or given to good homes as pets.

It has also achieved Assured Breeder accreditation by the Kennel Club in recognition of its commitment to dog welfare.