Facewatch chosen as standard equipment in winning Police car
Facewatch chosen as standard equipment in winning Police car
Tuesday, 02 April, 2013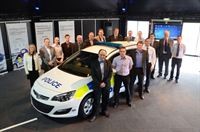 Facewatch chosen as standard equipment in winning Police car

Vauxhall Cars wins ACPO future technology challenge

1) Astra Sports Tourer wins ACPO future technology challenge
2) Equipment including Facewatch and forensic and face-recognition software wows judges
3) British-built and converted in Ellesmere Port, Cheshire and Millbrook, Bedfordshire
4) Police fleet dominance for Vauxhall with 70 per cent market share

A crime-busting Vauxhall Astra Sports Tourer, installed with Facewatch and other leading edge technology, has won a challenge from the Association of Chief Police Officers (ACPO) to find a way of incorporating future technology into a Police car.

The British-built Astra Sports Tourer featuring three computers is armed with Facewatch, forensics and facial-recognition software plus several high-quality cameras able to record activity around the vehicle. This CCTV footage can be streamed on-the-move and uploaded to Facewatch, the online crime database. Facewatch also provides instant feeds of crimes reported through the system as they happen, including moving CCTV footage and images of suspects.

This special Astra Sports Tourer is the Police car for the iPhone generation with witness of crime photography collected via 3G connectivity. The vehicle is also equipped with software that predicts future crime hotspots.

A sophisticated black box, equipment that's usually only found in aircraft, collects data on the Astra including speed, location and miles per gallon amongst numerous others. Officers are also able to dock Toughbook laptops and rugged smart phones.
To push the crime-fighting technology on even further, Vauxhall formed a consortium with specialist firms including Daetech Systems, TetraTAB, Airmax Group, Innaxys,Trans-tag, Kelvin Connect, Civica, Videolatitude, Imagebase and Facewatch.

Police fleet market leaders Vauxhall produced the base vehicle at their facility in Ellesmere Port, Cheshire and carried out the special conversion at their base at Millbrook Proving Ground, Bedfordshire.

This vehicle exceeds Commissioner of the Metropolitan Police, Bernard Hogan-Howe's directives for the police car to be the mobile office, so cops are always out in the field rather than back at the station.
ACPO are so impressed that the Astra Sports Tourer was the star exhibit at a police and security conference in Farnborough and will be taken to numerous conferences around the world. It's the second year running that Police fleet market leaders have won ACPO's challenge after romping to victory with a futuristic Ampera extended range electric vehicle last year.

"This British-built and converted Astra Sports Tourer will help make police officers more efficient. It becomes their office and allows them to spend more time on the road fighting crime," said Dick Ellam, Vauxhall's Special Vehicles Manager.

Simon Gordon, Chairman of Facewatch Ltd added, "It is an enormous privilege to have been chosen as a technology partner with Vauxhall. I am sure that Facewatch integrated and working together with the other break-through tech in the car will make a significant contribution to making all our communities safer."