Portrait of a modern police force
Portrait of a modern police force
Monday, 11 March, 2013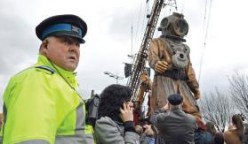 Policing "Sea Odyssey" in Liverpool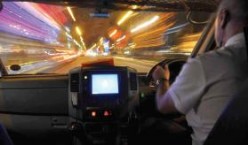 Christmas patrol in Southport


Merseyside Police Inspector Colin Lewis can normally be found coordinating youth engagement projects for the force. However for the past year he has been discreetly capturing all aspects of police life to produce a new photographic exhibition called, "Portrait of a Modern Police Force."

The unique photographic exhibition opened to the public at Liverpool Anglican Cathedral's Lady Chapel on Thursday, 14 February. The photographs depict a year in the life of the force, and capture a variety of officers and staff at key moments as they unfold. Unlike normal policing photographs, often of police cars and officers meeting with the public, this 100 image exhibition captures the people behind the role and includes a St Helens Neighbourhood Inspector performing as Elvis Presley for a charity fundraiser, new recruits at their first drill session, the last day in force of an ACC, as well as capturing the effects of cuts on the service.

Inspector Lewis said: "My original intention was to provide the force with a meaningful contemporary photographic archive and I believe I have been successful in doing so, and hope the public of Merseyside agree.

"From the start of the project I was clear that I wanted to capture the people behind the role and go beyond the uniform, which is often the first thing people see when they meet a police
officer. This involved developing a knowledge and connection with all of the people in the photographs.

The images wouldn't achieve the level of intimacy that I wanted if I didn't understand enough about the people in them. "The project brought fun, sadness, pride and other emotions and of course there were many memorable moments throughout the year. As the project developed I acquired a great sense of privilege and an almost greater one of responsibility, as there were so many committed people, completely focused on the public of Merseyside, and I wanted to do them all justice.

"This is not something I have achieved alone. Often the photography subjects influenced the pictures and I also had a great deal of guidance from the Royal Photographic Society. I am proud that the images will be exhibited in the prestigious space of the Lady Chapel at Liverpool Cathedral and hope both the subjects and the wider public of Merseyside enjoy this insight into modern policing life."

Merseyside Police Chief Constable, Jon Murphy said: "I am exceptionally proud of the people who work at Merseyside Police. This project gives us an opportunity to capture something of them, and to ensure that officers and staff for the future understand their passage through time a little better."