No cash for scrap metal
No cash for scrap metal
Monday, 31 December, 2012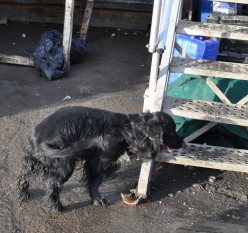 Police dog 'Morse'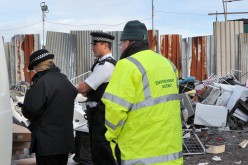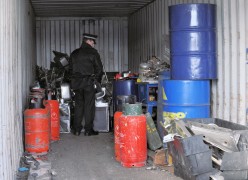 The UK saw new legislation introduced this week that prohibits scrap metal dealers from paying cash for scrap metal. Police in Bexley joined forces with British Transport Police (BTP) in an operation to ensure scrap yards were complying with the legislation.

Accompanied by Environment Agency officials, the Metropolitan Police Dog Unit and Health & Safety staff, police visited scrap yards across Bexley on Tuesday 4th December to educate scrap metal dealers about the new legislative changes and, where necessary, ensure compliance by way of warning letters or prosecution. Officers were also on the look out for stolen property and people or vehicles suspected of being involved in criminality.

During the operation a 34-year-old man was arrested for failing to keep accurate records under the Scrap Metal Dealers Act 1964 and on suspicion of handling stolen goods after approximately 200 gas cylinders were found inside a shipping container.

Borough Commander Chief Superintendent Victor Olisa said: "We welcome this new legislation which aims to remove the rewards that make metal theft such a low risk criminal enterprise, both for thieves and unscrupulous scrap metal dealers. Today's operation is in response to the new legislation and officers visited Bexley's scrap yards to inspect their yards and transaction books."

The Environment Agency assisted with staff who provided information and advice on aspects of the investigation relevant to the operation of waste sites. Environment Agency Senior Environment Officer Carina Strutt said: "This was a great opportunity for the Environment Agency to work with other agencies to crack down on waste crime. Everybody who worked together on this project targets the same operations from different aspects, so it made a lot of sense for us to work together."

The Legal Aid, Sentencing and Punishment of Offenders Act 2012 came into effect on 3rd December and set out changes to the 1964 Act that currently regulates the scrap metal industry. The reviewed legislation creates a new criminal offence which prohibits scrap metal dealers from paying for scrap metal in cash, only permitting electronic payment or payment by cheque. The Act also increases the fines available for key offences under the existing 1964 Act.

On the railway system, theft of cable, particularly live cable, has in recent years become the single biggest disrupting factor to the network. BTP has taken the lead in focussing police efforts on the issue through its chairmanship of the respective Association of Chief Police Officers (ACPO) and Association of Chief Police Officers in Scotland (ACPOS) metal theft working groups. This has successfully led to legislative changes affecting the scrap metal industry.