Campaign targets older residents
Campaign targets older residents
Friday, 07 December, 2012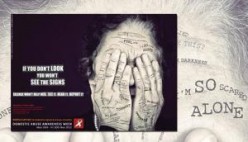 Norfolk Constabulary has backed a hard-hitting campaign aimed at encouraging the older generation to speak out about domestic abuse.

A series of impactive posters have been created to send home the message that such violence affects all generations and all walks of life. Out of the 430 cases of domestic abuse referred to Norfolk MARAC* between 1 April 2012 and 30 September 2012 only 23 involved victims over the age of 55 and Norfolk Constabulary believes the statistics show a vast under-reporting of such violence in this age group.

Detective Inspector Richard Ellis, of the Constabulary's Multi Agency Safeguarding Hub said: "We do not underestimate how difficult it can be for people to speak out about being a victim of domestic violence. It is often assumed that domestic violence is mainly experienced by
young people."

Posters have been created to not only encourage victims to speak out but anyone who believes they may know someone in need of help. They include images of an older man and woman with the slogans 'Silence Won't Help Him/Her. See It. Hear It. Report It'. As well as being distributed locally First Group buses agreed to run the artwork free of charge on its entire fleet for one week, last month.

Between 1 April 2011 and 31 March 2012 there were 12,988 domestic incidents reported to Norfolk Constabulary - of which 3452 were crimes. This compares with between 1 April 2010 and 31 March 2011 when there were 11,560 domestic incidents reported - of which 3284 were crimes.

Detective Superintendent Katie Elliott who head of the Constabulary's Vulnerable People Directorate, said: "Norfolk Constabulary is committed to taking positive action against domestic abuse. We work with other agencies to provide the support needed to break the cycle of abuse for families affected by such terrifying experiences.

It is about working together to offer long term support and not just ensuring victims and their families make it through the criminal justice process."

* A MARAC is a Multi-Agency Risk Assessment Conference, which draws together a number of agencies, such as the Police, Housing, Children's Services and Health.