Cycle ride for fallen heroes
Cycle ride for fallen heroes
Wednesday, 28 November, 2012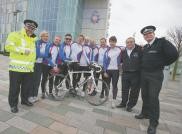 Hillingdon Officers with Assistant Chief Constable Garry Shewan and Chief Supt Nick Adderley Metropolitan Police meet Greater Manchester Police Senior Officers


Metropolitan Police Hillingdon officers and staff have raised £6,000 for the North West Police Benevolent Fund following a 200-mile bike ride from London to Manchester in memory of the two Greater Manchester Police (GMP) officers PC Fiona Bone, aged 32 and PC Nicola Hughes, aged 23.

On the last leg of the journey from Buxton Police Station on 9 November 2012, 80 people, both serving and retired officers and staff from Greater Manchester Police, joined the crew from Hillingdon and cycled to GMP Force Headquarters.

Hillingdon officers also stayed on to carry out a tour of duty in honour of the two officers with their teammates before returning back to Hillingdon.

PC Damien Goddard-Lane said: "We are honoured to have had the opportunity to organise and take part in this event. The support offered by many individuals and companies has been overwhelming. This in turn has enabled us to provide support to our wider police family. It has brought people together during a difficult time while raising money for a charity that frequently gets forgotten."

Borough Commander Steve Kershaw said: "I travelled with the officers as a member of the support crew and I am very pleased that they were successful in their endeavour. It was a humbling experience. I am proud of our officers and everyone who joined us to complete this journey in memory of Nicola and Fiona. Our thoughts remain with their families, friends and colleagues."