Police & Staff recognised at Wigan Awards Ceremony
Police & Staff recognised at Wigan Awards Ceremony
Monday, 06 August, 2012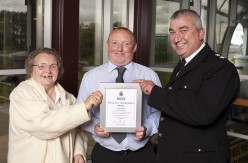 Colin Faulkner and Chief Superintendent Shaun Donnellan (and Colin's mum)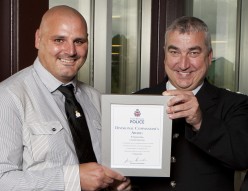 Stephen Millar and Chief Superintendent Shaun Donnellan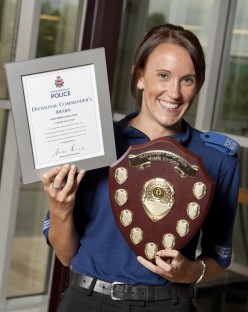 PCSO Lyndsey Sutch (PCSO of the Year Award)
Wigan Division's police officers and staff had their outstanding work and commitment celebrated at an awards ceremony.

More than 100 people attended the event on Thursday 2 August, where they saw their colleagues awarded for the efforts to make Oldham a safer place for people to live and work.

Winners of the coveted awards were selected by a panel of judges made up of senior officers and staff. It was chaired by Wigan's Divisional Commander, Shaun Donnellan.

The ceremony which was held at the Wigan Soccerdome included Divisional Commander's Commendations, PCSO of the year award, Long Service and Good Conduct Medals and Long Service Certificates.
Members of the public, Steven Millar and Colin Faulkner were among the 81 officers and members of police staff to receive divisional commander's commendations, for their outstanding bravery when confronting a man armed with a sledgehammer who was attempting to steal from the shop in June 2012.

Another member of the public, Carole Barrow, was also awarded for her sympathetic and understanding manner when she came across a suicidal woman who had climbed over the barrier of a road bridge. Carol engaged her in conversation, preventing her from jumping and buying valuable time before the police arrived.

DCI Howard Millington and DI Jonathan Keeley have been awarded as part of the team of officers who successfully investigated and charged a dangerous predatory sex offender who had been operating in the area and in Cheshire.
PC Martin Dawber has been given an award for his part in a drugs operation. After the initial drugs warrants were executed, Martin worked tirelessly to collate evidence and work with the Crown Prosecution Service to ensure that the offenders were brought to a successful prosecution.

DI Jonathan Keeley, DS Graham Clare and DC Robert Kitchen were all given award for their work on a large-scale investigation into the production and distribution of abusive images of children. One suspect was charged with 17 counts of possession with intent to distribute abusive images.
Police Community Support Officer (PCSO) Lindsey Sutch received the 'PCSO Christopher McClure Memorial Award for Oustanding Contribution to Their Community' for her work to tackle antisocial behaviour across the Pemberton neighbourhood and her work in targeting metal theft.

Chief Superintendent Shaun Donnellan said: "There is a lot of excellent work being done to tackle crime and disorder across Wigan which is evident in the quality of the nominations for this year's awards.

"The officers and staff that received the awards have done so for their continual efforts and first class service they provide to not only members of the public, but also to their colleagues."All employees are doing a fantastic job in the fight against crime and it was a really tough job selecting the winners from the nominations."