Police Authority Appoints New Deputy Chief Constable.
Police Authority Appoints New Deputy Chief Constable.
Monday, 19 March, 2012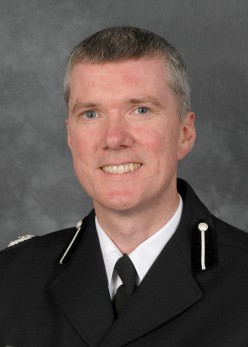 Leicestershire Police Authority has announced the appointment of Simon Edens as the next Deputy Chief Constable (DCC) of Leicestershire Police.

Mr Edens, Assistant Chief Constable with West Mercia Police since 2008, has been Assistant Chief Constable for both West Mercia Police and Warwickshire Police since December 2011 as part of the Strategic Alliance between those two forces. In addition, he currently holds the national lead on anti-social behaviour for the Association of Chief Police Officers.

Mr Edens began his policing career with the Royal Ulster Constabulary, where he served for 10 years before transferring to Cambridgeshire Constabulary in 1991. He will take up his new role in Leicestershire in the near future.

The announcement comes after a robust recruitment process which started earlier this year. After his appointment was announced Mr Edens said: "I am delighted to have been selected and look forward to joining the force as soon as possible.

"I fully believe that the core purpose of policing is protecting people and keeping them safe, all of which mirrors the values of Leicestershire Police. I think Leicestershire Police is a great team and I'm looking forward to becoming part of the leadership team and helping to take the force forward in the future."

Barrie Roper, Chairman of Leicestershire Police Authority, the body currently responsible for appointing senior officers, said the appointment followed an exhaustive two day interview process. He added: "We are satisfied that in Simon we have found someone who can bring further strength and resilience to our senior officer team.

"Simon's experience will help to make Leicester, Leicestershire and Rutland safer for those who live, work or visit the area and I am pleased to welcome him to the team."