Pioneering police scheme reinforces commitment to residents' safety
Pioneering police scheme reinforces commitment to residents' safety
Wednesday, 08 February, 2012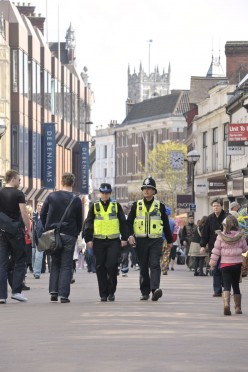 Householders across Suffolk can sleep easier in their beds following the launch of a unique safety scheme spearheaded by Suffolk Constabulary and Keycare, the UK's leader in the recovery and replacement of lost or stolen keys.

In a UK first, the constabulary's keyholder registration service, SAFEKey, will now benefit from Keycare's nationwide recovery and locksmith support services. For a small fee, householders and businesses within the Suffolk area can register nominated keyholders should the police need to access an unattended property that appears to have been burgled or has been left unsecured - and also receive protection in the event they lose their keys.

In addition to the police making residents' properties safe without causing damage on entry, they can access Keycare's comprehensive database of locksmiths and their preferred glazier to secure the home following any incident. Residents or business owners whose keys are lost can likewise use Keycare's recovery service which offers a reward to the finder for the return of lost keys.

Around 650,000 customers in the UK already enjoy the peace of mind provided by a Keycare product, as a membership benefit or as part of a wider insurance policy with many leading UK brands..

As well as providing cover for all keys - and not just those restricted to homes and cars - Keycare provides an emergency 24-hour helpline, car hire and the support of a nationwide network of locksmiths .

Chief Constable Simon Ash said: "It can be frustrating for our officers when they are handed lost keys as it's very difficult to reunite them with the owner. Thanks to our partnership with Keycare, the introduction of these special key fobs to the SAFEKey scheme means you can now have extra peace of mind that you have ensured the security of your keys and minimised potential risk.

"This is in addition to the basic keyholder registration service which has already proved successful and means officers can gain access to a property to make it safe without having to force a door or window. With nearly 300,000 households in Suffolk we expect the enhanced SAFEKey offering to be a huge success.

"Projects like Suffolk SAFEKey are also vital to funding the Safer Suffolk Foundation. Since its launch in 2008, the foundation had raised over £109,000 and £17,970 has been awarded to grassroots community projects in 2011 alone."

David Ross, managing director of Keycare, added: "It's been a pleasure working closely with Suffolk Constabulary to develop a bespoke product which links seamlessly with their existing offering. As administrators of the new service for the police, we can experience at first-hand how it saves householders a great deal of stress and inconvenience in the event of an incident.

"We take pride in our deep-rooted commitment to improving security for people throughout the country and this product - the first developed in conjunction with a police force - is a clear endorsement of that ethos."