New look for Essex
New look for Essex
Friday, 03 February, 2012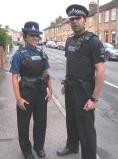 New uniforms, as modelled by PCSO Carly Double and Sgt Taks Shah


Police officers on the streets of Essex have replaced their white shirt and tie with a new 'wicking' shirt for operational officers. The shirts have been introduced as part of a wider review of uniform in order to bring substantial savings to the force.

In the two years from 2009/10 to 2010/11, Essex Police spent an average of £51,500 per year on replacement white shirts and ties, costing £103,000. The new wicking shirts have cost £84,800 to introduce to the force and are expected to last on average for two years.

Assistant Chief Constable Maurice Mason said: "The new shirts have been selected with officers' comfort, as well as cost-efficiency, in mind. The new shirts are durable, tough and comfortable. Offering better value for money."

The new shirts will also make sergeants more visible to the public and their colleagues by displaying the sergeant chevron on the arm. Officers at Chief Inspector
rank and above will continue to wear the white shirt and tie, as will operational officers at ceremonial occasions.

Unwanted white shirts and ties will be recycled.