PCSO Commended by Chief Constable after confronting dangerous dog - Dartford, Kent
PCSO Commended by Chief Constable after confronting dangerous dog - Dartford, Kent
Tuesday, 18 October, 2011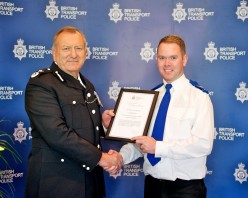 BTP Chief Constable Andrew Trotter present PCSO Stewart McKenna with his commendation


A British Transport Police (BTP) Police Community Support Officer (PCSO) who rushed to help a member of the public being attacked by a dangerous dog in Dartford has been awarded a Chief Constable's Commendation.

PCSO Stewart McKenna was presented with the award by BTP Chief Constable Andrew Trotter during a ceremony held at the Force's London Headquarters on Friday, 14 October.


Whilst off-duty around 8pm on Tuesday, 1 March 2011, PCSO McKenna witnessed a man being attacked by an American Pit Bull Terrier, which was roaming freely on Great Queen Street in Dartford.

The dog had been pinned down for around 20 minutes by the man, who had sustained serious injuries to his arms and hands.

Due to exhaustion, the man let go of the dog and once again became the subject of another vicious attack.

Acting quickly and bravely, PCSO McKenna placed himself between the man and the dog, preventing the already-injured member of the public from sustaining further injuries.

PCSO McKenna then restrained the animal for over thirty minutes whilst awaiting local police assistance, sustaining severe bite injuries to his legs and hands in doing so.

Kent Police officers arrived at the scene and deemed the dog to be so threatening that they deployed their Tasers. The dog was Tasered three times but with little effect and it continued to attack and bite PCSO McKenna, who was also in pain from the shock from the Tasers.

PCSO McKenna continued to restrain the dog and eventually overpowered it using sheer physical force. He later required hospital treatment for his injuries at Darenth Valley Hospital.

A man was sentenced in June following the incident for three offences of having a dog dangerously out of control. The sentencing judge ordered that the dog be destroyed as it was too dangerous and out of control.

Following the ceremony, BTP Chief Constable Andrew Trotter said: "In intervening as he did, Stewart showed amazing bravery, rushing to help the member of the public without fear or regard for his own safety.

"I am pleased to be able to congratulate and commend Stewart for his actions, which were absolutely outstanding and a credit to him and the Force."

After receiving his award from the Chief Constable, PCSO Stewart McKenna said: "I'm grateful that BTP has recognised my efforts and was happy with the way Kent Police CID handled the investigation.

"I am very happy to receive this award, which will allow me to put this incident behind me and move on."