A very mini Cooper soon to sniff out criminals
A very mini Cooper soon to sniff out criminals
Friday, 02 September, 2011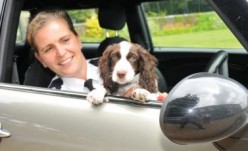 Inspector Di Lewis with Cooper


Cooper is the latest addition to the Sussex Police team fighting drug and other serious crime.

The seven-week old cocker spaniel was bought by the force from the proceeds of the sale of a Mini Cooper car confiscated from a Sussex drug dealer. Cooper will leap into action next year as a specialist drugs and explosives search dog working across the whole of the force area.

The car had been seized in May 2008 and was sold by Sussex Police at an auction for £4000. The money was split between Crimestoppers, and the force Dog Unit - where the money has helped support the starring appearance of Cooper.

Inspector Di Lewis of the force's Dog Unit said; "Cooper is an instant hit. She will need to grow and then go through careful and patient training before she is ready to hit the road, but initial signs are very positive and I'm sure that before long she will be out there helping put more criminals behind bars and confiscate their profits."