Tributes paid to officer ahead of 40th anniversary of fatal shooting
Tributes paid to officer ahead of 40th anniversary of fatal shooting
Wednesday, 17 August, 2011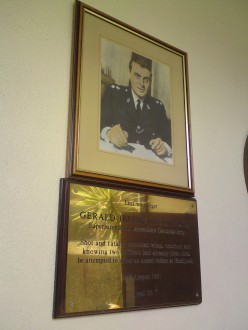 Memorial plaque at Blackpool's Bonny Street police station


TRIBUTES have been paid to a Blackpool officer killed in the line of duty, as colleagues prepare to mark the 40th anniversary of his death.

Members of the local community will also pay their respects to Supt Gerry Richardson, as a bench and plaque will be dedicated in his honour following a special church service.

Supt Richardson was fatally shot on August 23, 1971, as he tackled a gunman following an armed robbery on a jewellery shop in the resort.

Officers were called to the store on The Strand when a manager pressed the emergency alarm during a raid by five masked men. Supt Richardson and PC Carl Walker chased one of the criminals on foot, ending up in a dead-end alleyway. PC Walker was shot in the thigh; the gunman then went on to shoot Supt Richardson twice in the stomach at point blank range as he tried to disarm him. He died of his injuries later that day and was the highest ranking officer to have been killed in the line of duty. In 1972 he was posthumously awarded the George Cross for his bravery.

Supt Richardson had a real passion for youth work, and the Superintendent Gerald Richardson Memorial Youth Trust was set up in his honour. It has helped around 16,000 young people from the area take part in life enhancing activities and has disbursed over £250,000 to good causes.

Blackpool's current divisional commander, Chief Superintendent Richard Debicki said: "Superintendent Richardson was in his office when he learnt of the raid, but when he heard that the robbers were armed and that his officers could be in danger, he joined them to deal with the incident. Sadly that brave act of leadership cost him his life. We will not forget his act of bravery - his photograph and a memorial plaque are still in our police station and it is right and fitting that we remember him 40 years on. His untimely death is a reminder to us all of the risks that police officers face in the course of their duties".

Lancashire Constabulary's Chief Constable Steve Finnigan said: "Our officers today continue to show the same bravery and dedication to protecting the public that Superintendent Richardson did, helping to build safe and confident communities in Lancashire.

"Thankfully it is rare that officers pay the ultimate price in protecting our communities, but that should cause us to reflect even more keenly on the bravery and sacrifice of Gerry Richardson."

The community of Claremont will hold a special church ceremony at 11am on August 23 at St Paul's Church on Egerton Road. A plaque and bench will be unveiled in Supt Richardson's honour. All are welcome to attend

A celebratory commemorative dinner will also be held in the evening to raise money for the Superintendent Gerald Richardson Memorial Youth Trust. The event will be held from 7.30pm at Blackpool Football Club. Tickets are £35 per person or £300 for a table of 10. Contact Jeffrey Meadows on 01253 765458 for tickets.