Olympics countdown
Olympics countdown
Wednesday, 10 August, 2011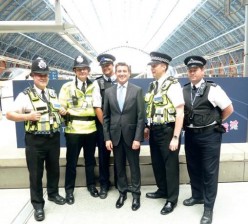 Left to right, PS Steve Smith (BTP), PC Andrew Dishman (BTP), PCSO Richard Tooth (SNT), Lord Coe, Insp Julian Dixon (BTP), PS Gary McGovern (SNT)


On 27 July, officers from Camden Police's St Pancras & Somers Town Safer Neighbourhoods Team (SNT) with British Transport Police took part in partnership patrols at St Pancras Station as part of the celebrations to mark the one-year countdown to the 2012 Olympic Games.

St Pancras Station will be one of the key transport hubs for people visiting the games and BTP officers based at the station, as well as the local Safer Neighbourhoods Team (SNT), are there to ensure that security is maintained and the railway is free from disruption.

Sergeant Gary McGovern, from Camden Police's Safer Neighbourhoods Team added, "My team has built a very productive and important relationship with the BTP St Pancras Neighbourhood policing team. Over the last three years we have carried out joint operations, patrols and community events, in addition to supporting each other in different ways promoting a key joint relationship within St Pancras and Somers Town."