Theresa May meets with West Midlands Phone Crime Unit
Theresa May meets with West Midlands Phone Crime Unit
Tuesday, 26 July, 2011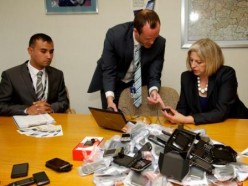 THE HOME Secretary Theresa May met with officers from the West Midlands Police Mobile Phone Crime Unit to look at the force's innovative approach to tackling phone theft.

The unit - set up as part of operation Serve and Protect, a forcewide crackdown on robbers - gave the Home Secretary a demonstration of their work including the use of handheld scanners which allow police officers to check if mobiles are stolen.

Linked to the National Mobile Phone Register (NMPR), officers are able to scan the barcode on recovered handsets and instantly tell if the phone has been reported lost stolen meaning officers can be more quickly arrested and mobile returned to their rightful owners.

And just months into their formation, the team are already netting results with their specialist skills helping local officers to:

• Recover 350 phones with a net value of over £100,000
• Detect 70 false robbery reports
• Execute 30 warrants in relation to stolen mobile phones

The team have also conducted uncover patrols at gigs in Wolverhampton, Birmingham and Coventry, to capture thieves deliberate targeting music fans at packed venues.

During one such sting, the team arrested a man wearing two pairs of specially adapted trousers with the pockets cut out and the inner pair taped around the ankles so that he could deposit a large number of stolen phones.

Visibly impressed by the presentation, the Home Secretary commented that: "This was exactly the thing all forces should be doing."

Detective Inspector Mark Rushton, who heads the unit and led the presentation, said: "West Midlands Police is only the second police force in the country to have a unit dedicated to tackling mobile phone crime.

"Talking to the Home Secretary presented a great opportunity for us to showcase the innovative ways in which we are protecting the public from harm and ensuring criminals are brought to justice."

To view a film of the West Midlands Police Mobile Phone Crime Unit in action, visit:

www.youtube.com/westmidlandspolice
or for all the latest news on operation Serve and Protect, search for #serveprotectwmp on Twitter.