Northumbria Police Authority appoints new Deputy Chief Constable
Northumbria Police Authority appoints new Deputy Chief Constable
Tuesday, 26 July, 2011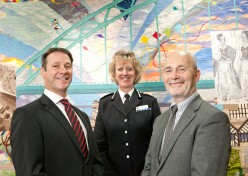 Councillor Mick Henry, Chair of Northumbria Police Authority, and Chief Constable of Northumbria Police congratulate Mark Gilmore on his appointment as the new Deputy Chief Constable of Northumbria.
Northumbria Police Authority has appointed Mark Gilmore as its new Deputy Chief Constable.

Mr Gilmore, who is currently the Assistant Chief Constable (Special Operations) at West Yorkshire Police, was appointed on Monday 25 July, following interviews at Gateshead Civic Centre.

Mr Gilmore has been with the West Yorkshire force since April 2009. The 46 year old was previously Assistant Chief Constable with the Police Service of Northern Ireland, the force he joined in 1986. He was seconded to the Association of Chief Police Officers (ACPO) as Chief of Staff to the President. His previous role prior to becoming Assistant Chief Constable was as District Commander in Lisburn.

Councillor Mick Henry, Chair of Northumbria Police Authority, said: "Our task in selecting a new Deputy Chief Constable was a difficult one. But I'm confident that the Police Authority has chosen the ideal person for the role.

"I'm sure Mark will bring a huge amount to the job, his high level of experience is clear and I look forward to working with him."

Chief Constable Sue Sim Said: "I am delighted to welcome Mark Gilmore as our new Deputy Chief Constable. He brings with him a wealth of experience that will benefit our communities and help us to continue our successful record in driving down crime and delivering the policing services people tell us they need and want.

"I also want to take this opportunity to thank Temporary Deputy Chief Constable Jim Campbell for his excellent contribution over the last 12 months. Jim will continue his role as Assistant Chief Constable."

Mark Gilmore said on his appointment: "It is with a great sense of humility that I take on this role with the Northumbria Force because it has such a great reputation. I am really looking forward to working with the Chief Constable and Northumbria Police Authority to tackle the organisational and operational challenges that lie ahead. I welcome being able to work with communities and local people to help keep the area safe and effectively policed."