Officers' bravery honoured at special awards ceremony
Officers' bravery honoured at special awards ceremony
Tuesday, 28 June, 2011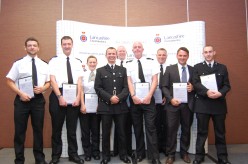 POLICE officers have received commendations in recognition for their brave actions while on duty.

The officers, who all work in Lancashire Constabulary's Western Division, which covers Blackpool and Fylde, were presented with the awards at a special ceremony.

PC Alan Bagan and PC Ross Williams were presented with the Rhodes Marshall meritorious conduct cup, which is given to officers who display significant physical, emotional or moral courage at an incident.

PC Bagan was returning to Bonny Street police station during the early hours of November 22, 2010, when he saw a man led on the edge of a footbridge, 50 ft from the ground. When the man appeared to lose consciousness and started to topple over the edge of the bridge, PC Bagan raced up the staircase and grabbed hold of his arm. PC Williams then arrived at the scene and grabbed both his colleague and the man - with the pair of officers having to hold on until further help arrived. It eventually took five officers to pull the man to safety.

Chief Superintendent Richard Debicki said: "Both of these officers reacted quickly in a life threatening situation. Were it not for their brave and physically demanding actions, the male in question would have fallen to his death."

Also nominated for the award were PC Paul Haddow, PC Matt Moore and PC David Baker. The trio attended a horrific scene in September 2010 where a man had fallen from a tower block and had been decapitated on his descent. The officers not only had to compose themselves and secure the scene but also had to deal with a number of members of the public trying to break through the police cordon to get a closer look.

PC Tim Taylor and Sgt Sam Driver were nominated for the award after dealing with an incident in Greenhalgh in September last year where a man started shooting an air rifle and throwing petrol bombs at a group of teens camping in a field. Without any thought for their personal safety they pursued the offender and arrested him near to the scene, preventing any further injury or danger to the group of traumatised youngsters. The man was later jailed for four and a half years.

PC Richard James was nominated after he helped to pull a suicidal male up from the parapet of the railway bridge next to Layton station in November last year. The man had toppled forward and PC James was able to grab his jacket and, with the assistance of members of the public, haul him to safety.



Chief Superintendent Richard Debicki said: "All of those who have received awards and commendations have gone beyond the call of duty when faced with situations that were often dangerous and in some cases life threatening. The actions of these individuals should be praised, not only because in some cases they have helped to save the life of someone else, but also because they are helping to protect our communities on a daily basis."