Ceremony recognises county's special constabulary
Ceremony recognises county's special constabulary
Monday, 23 May, 2011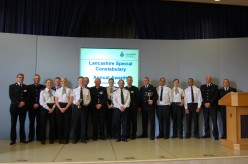 SPECIAL constabulary officers across Lancashire were awarded for their dedication at a recent ceremony.

24 officers were presented with an award for ten or more year's service and Special Insp Ruth Gardner from the county's northern division, which covers Lancaster, Morecambe and Wyre, was named special constable of the year for her devotion and commitment.

Special Sgt Callam Nuttall from the county's Pennine division, which covers Burnley, Nelson and Rawtenstall, was awarded special constabulary student of the year.

The special constabulary team of the year award, sponsored by BAE Systems, was given to the Safer Travel Unit based in East Lancashire.

The awards were presented by Assistant Chief Constable Andy Cooke at the ceremony which was held earlier in the month.

ACC Cooke said: "Our special constabulary is a valuable resource - a strong embodiment of the fact that policing needs the support of all the community.

"Joining the specials can give a person a great sense of fulfilment. It gives them a chance to get involved with the community and make a real difference to the people living there.

"This ceremony was an opportunity to recognise the fantastic work that our special constabulary does day-in-day-out to help keep the communities of Lancashire safe."

Lancashire Constabulary has a total of 443 special constables. They have full police powers and perform the same duties as regular officers. These can range from general patrol to the policing of football matches and road traffic incidents.

Specials wear the same uniform as police officers and are issued with the same equipment. Aged 18 and above, they work flexible hours with a minimum requirement of four hours per week and provide their time and expertise without financial reward.