PoliceCU go to great heights for charity.
PoliceCU go to great heights for charity.
Thursday, 05 May, 2011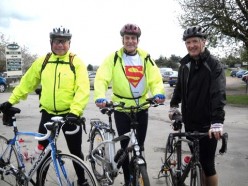 L-R: Maurice Murphy, Peter Evans and David Price in training


Birmingham-based Police Credit Union is helping to transform the lives of disabled and ill children across the UK, as its chief executive Peter Evans and four colleagues join a group of daring explorers and head to the mountains of Malaysia to raise money for the charity Children Today.

The team from Police CU and Droitwich Veterans FC are paying their own costs so every penny raised will go straight to Children Today. They are jetting off to Malaysia to take on a series of challenging tasks from 3 June 2011.

After a steep climb to the top of one of the highest buildings in the world, the 'Menera KL Tower' in Kuala Lumpar, and then a zip-slide down, the team will trek through the jungle to the highest point in the Cameron Highlands, 'Gunung Brinchang', before embarking on an expedition in a kayak and white water rafting on the Sungai Selangor river.

Police Credit Union's chief executive, Peter Evans said: "This is a once in a lifetime chance to see some breathtaking scenery and explore different cultures, whilst at the same time raising thousands of pounds. We are delighted to support Charity Today, that is doing such vital work in our local communities across the UK."

The team need to raise just £3,000 to hit their target of £15,000. If you'd like to support their challenge, visit www.justgiving.com/malaysiachallenge to donate.

As one of the UK's leading credit unions, Police Credit Union is dedicated to supporting members of the Police family and has chosen Children Today as its official charity for the next three years.