Kent Police has UK's top female police dog handler
Kent Police has UK's top female police dog handler
Wednesday, 20 April, 2011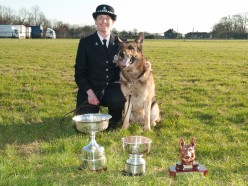 Police Constable Samantha Appleby has become the top female police dog handler in the UK following the National Police Dog Trials.

The Kent Police officer was one of only two women competing in the prestigious event and came 8th overall out of 22 competitors.

The dog handler, and her four year old German Shepherd Victor, represented Kent Police along with PC Dave Simmons, and his six year old Belgian Sherpherd Riba, at the trials in Suffolk over the weekend. PC Simmons came 11th overall.

PC Appleby said: "'I was thrilled to represent Kent Police in the nationals and it's an honour to be the UK's top female dog handler.

"Victor is a general purpose dog and like the others, specialises in searching for people and property as well as tracking, chasing and detaining offenders. He did really well and I'm proud of what we've achieved."

PC Appleby came third in the regional heats recently whilst her colleague came first, scooping seven of the eight trophies between them.

The four-day national competition put the country's most highly skilled and experienced police dog handlers and dogs through their paces in exercises which tested a wide range of abilities such as tracking, searching, stand off, weapon attack, obedience and crowd control.

Held on behalf of the Association of Chief Police Officers (ACPO), the annual event promotes the pursuit of excellence and encourages the professional development of the handlers and their forces. It also gives competitors an opportunity to share good practice and develop dog training techniques.

The overall National Police Dog Trials Winner for 2011 was Devon and Cornwall Sergeant Paul Glennon and his dog Spud. Sergeant Glennon was a popular winner having come second overall in the past four national events. He is due to retire later this year.