Essex Police raise over £16,000 by completing the London Marathon
Essex Police raise over £16,000 by completing the London Marathon
Tuesday, 19 April, 2011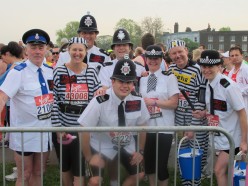 Essex Police officers and staff have raised more than £16,000 for charities close to their hearts by completing the 31st London Marathon.

A number of officers and staff braved the heat to complete the 26.2 mile course on Sunday, April 17, 2011.

Some of those who joined the 36,000 plus runners were:

Ch Supt Jed Stopher and co

A squad of eleven runners from Essex Police joined Chief Supt Jed Stopher to run the marathon dressed as cops and robbers.

The runners, including two officers from Greater Manchester Police and one from the Northern Constabulary, aimed to raise more than £10,000 for the Neo natal Unit at Broomfield Hospital in Chelmsford.

Most of the team were dressed in uniform but two were dressed as robbers. Along the course they collected donations which will be used to help buy specialist equipment for a special intensive baby care unit.

Jed, a divisional commander based at police headquarters in Chelmsford, decided to take on the challenge of a 10th marathon after his mum was taken seriously ill in 2008 with a complete organ failure. The then 73-year-old was treated at Broomfield Hospital's intensive care unit and made a good recovery.

He was joined by Sgt Gerry Parker, based at Stanway, Pc Kirsty Potterton, based at Boreham, Dave Fogerty, formerly of the media department, PCSO Al Barley, based at Chelmsford, Pc Dave Hiscock based at Boreham, Sgt Matt Hylands, based at Stansted Airport, Sgt Matt Garrett based at Boreham and Julia Jeapes who works at police HQ.

Carrying heavy buckets of cash, the team all crossed the finishing line as a team in six hours and 50 minutes.

So far the team has raised almost £9,000.

Ch Supt Jed Stopher said: "We managed to collect an extra £200 on the day by collecting donations in buckets along the course.

"It was extra tough going this year due to the heat but we made it and that's the important thing, even though we were overtaken by 4 rhinos, a man who ran backwards , and a London bus !

"A really great day was had, and my thanks go to everyone who has supported our cause."

Deputy Chief Constable Andy Bliss said: "Jed and the team's many hours of training over the winter enabled them to complete the London Marathon dressed in police uniform on a hot day.

"They have brought great credit on themselves and on Essex Police and will be presenting a very large cheque to the Neo Natal Unit at Broomfield in due course. We are all immensely proud of them - a team of busy officers prepared to go more than the extra mile for a very deserving cause.

"I would also like to congratulate all other Essex Police officers and staff who ran the London Marathon to raise money for deserving causes."

Sgt Kirste Snellgrove

Despite being diagnosed with breast and lung cancer, Sgt Kirste Snellgrove was determined to run her 21st marathon to raise money for Breast Cancer Campaign.

Kirste, who is based at Essex Police College, was diagnosed with breast cancer in May 2005 and lung cancer last year. She refused to let the news stand in her way of raising money for the charity and completed the London Marathon in seven hours and two minutes to raise £1600.

The courageous sergeant is no stranger to running. She has completed 21 marathons, several triathlons and a 200-mile charity bike ride.

Pc Simon Stone

Traffic officer Pc Simon Stone was diagnosed with bronchil asthma at the age of five. Over the years he learned to manage the condition and became physically stronger, turning to running as a way of maintaining his fitness.

Pc Stone took on the challenge of the London Marathon to raise money for Asthma UK. He completed the run in exactly six hours and has so far raised around £1000.

He said: "Asthma is a condition that tends to get overlooked but it can leave people feeling isolated, especially children who feel they can't keep up with their friends.

"Asthma UK gives counselling to sufferers, offering one on one advice as well as helping fund research. I really believe raising awareness of this charity could help sufferers."

Pc Andrew Wells

Pc Andrew Wells from Laindon ran the marathon in a bid to raise £10,000 for Children with Leukaemia in memory of his niece Sarah Townhill.

Sarah, from Wickford, was just 18 when she died of leukaemia in December last year, eight months after being diagnosed.

Pc Wells ran with three other officers, Pc Lisa Cooke, from Laindon neighbourhood response team, Pc Ali Riley from Basildon and Dc Darren Ward from Basildon CID, under the team name Run4Sarah.

Pc Wells crossed the finish line in four hours and 58 minutes, followed by Dc Ward in six hours and 49 minutes and Pcs Riley and Cooke in six hours and 50 minutes.

Together the team has so far raised more than £2,900 for the charity.

Jo Walden

Jo Walden, Vetting Unit manager, has so far raised £1,900 for the Multiple Sclerosis Resource Centre based in Colchester.

She crossed the finish line in four hours and fifty-four minutes to raise vital funds for the charity which provides information, support and advice for anyone affected by multiple sclerosis.

Steven Pollard

Steven Pollard, website developer, took on the challenge of the London Marathon to raise money for the Association For Spina Bifida and Hydrocephalus.

He completed the course in four hours and fifty seven minutes and has raised £530 for the charity so far.

Pc Mike Monkton

Pc Mike Monkton from Rayleigh CID took on the London Marathon for two reasons - as a personal challenge and to raise money for Havens Hospice.

He finished the course in four hours and 12 minutes.