Suffolk Finish Fourth as Dog Trials hailed a success
Suffolk Finish Fourth as Dog Trials hailed a success
Monday, 18 April, 2011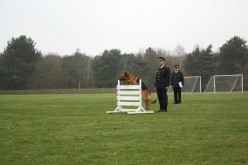 Suffolk dog handler, Nick Self, and police dog Lincoln finished 4th in this weekend's National Police Dog Trials.

The National Trials, which were open to the public at Trinity Park on Saturday 16th and Sunday 17th April, saw the 22 top dog handlers from across the UK competing for the title of National Police Dog Champion.

Sergeant Paul Glennon from Devon & Cornwall Police won the competition with his dog, Spud. Pc Dave Gough with police dog Beano from Nottinghamshire Police came second and Pc Steve Ritchie with police dog Amstel from Tayside Police came third.

Suffolk's other representative, Pc Tony Russell, was in the top three for his property search exercise and finished 18th overall.

Competitors qualified for the competition after progressing through regional trials. The Nationals put competitors through tough exercises which tested a wide range of abilities such as tracking, searching, stand off, weapon attack, obedience and crowd control.

Members of the public were able to see one phase of the trials at Trinity Park and over 10,000 people attended the event over the weekend. Visitors were also able to see displays from Suffolk Constabulary's drug detection dogs, the Essex Dog Display Team and the Three Counties Newfoundlands, along with a range of trade stands, exhibitors and children's attractions.

The event, which was funded through sponsorship, raised money for three local charities; the Blue Cross, Felixstowe's 'Complete the Dream' Appeal, the Safer Suffolk Foundation and the East Anglian Children's Hospices Treehouse Appeal.

Sgt Mick Hart of Suffolk Constabulary's Dog Section said: "We are absolutely delighted with the success of this weekend's event. Each of the 22 competitors performed extremely well in some very difficult tests, and we saw some fantastic skills demonstrated by representatives from forces all over the UK.

"Police handlers and dogs provide a key aspect of everyday operational policing and the National Trials allow us to celebrate this and for forces to share best practice.

"It was fantastic to be able to demonstrate these skills to the public and we were extremely pleased with the huge amount of people who came to watch the event and to enjoy the various attractions on offer.

"Nick and Tony did a great job of representing Suffolk and continued our excellent track record of qualifying for, and competing at National Level.

"We would like to thank all who assisted in making the event possible and we hope that we have raised a substantial sum for the three local charities."