Bury St Edmunds vehicle technician has half a century on the clock
Bury St Edmunds vehicle technician has half a century on the clock
Wednesday, 13 April, 2011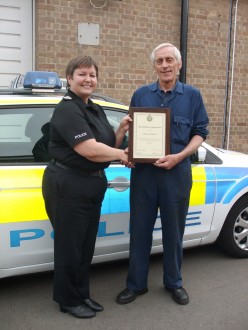 Norman receives his certificate of appreciation from Deputy Chief Constable Jacqui Cheer
Suffolk Constabulary is saying a big thank you to its longest serving member of staff, vehicle technician Norman Robertson, who is still going strong after 50 years with the force.

Norman started work as a mechanic in Bury St Edmunds aged 15 in April
1961 - back then he worked for West Suffolk Police. East Suffolk was a completely different force, and the two amalgamated in 1967.

"This is the only job I've ever had, and I didn't even apply for it! We had to fill in a form at school, and I wrote down motor mechanic.
Someone then said to me you must be pleased about the job - I didn't know what they were talking about!

"I had to go to the old police station on St John's Street in Bury with my dad, I was left with an Inspector while he went in to see the Chief Constable. I was then ushered in, shook his hand and I got the job.

"I left school, had a few days off over Easter and then went straight to work on April 4th. My first pay packet was two pounds 12 shillings and sixpence - a lot of money to a 15 year old. I gave mum a pound, saved a pound and still had 12 and 6 to spend!"

Life in the workshop has changed a lot over Norman's 50 years.
Nowadays the workshop at Bury St Edmunds Police Station services and maintains 140 police cars and vans covering the west of the county.
Vehicles are also taken apart at the end of their police lives. But back in 1961 things were a little different.

"Back then we looked after 12 cars and 13 motorbikes. Some of them were the old "Noddy bikes",little grey things that only policemen used. The bikes just got bigger and bigger and now headquarters look after them.

"We moved to the present police station on Raingate Street in 1964. It was a purpose built workshop with plenty of space, and has gradually evolved since. It's the same with the cars - they change, get more complicated, but as long as they've got nuts and bolts we keep them running."

Norman remembers one day back in the 1960s when he arrived at work to find the workshop under several feet of water. "The river had burst its banks and the water was up to the workshop windows. We had a bike on a ramp over the pit, and we had to try to get it off without falling into the submerged pit.

"There was an almighty whoosh and a surge of water came up against the wall to the yard and knocked it down. We ran but the door to the stores was open and all the parts came floating out. We were wading around trying to salvage what we could.

"I made a mark on the station wall,"High Tide". When the wall was rebuilt it included holes at the bottom in case the river ever flooded again, but it was cleared out and we never had another flood."

Whilst Norman has celebrated his 65th birthday, he's not looking to retire until at least 2012. "I'm happy here, doing what I do - I was offered the foreman's job 30 years ago and turned it down, I prefer getting my hands dirty. Whatever fancy title they might give the job, I'm still a grease monkey!

"I've been here 50 years now and some wonder how I've put up with the same thing day after day - well I've never got up wishing I didn't have to go in, I've always enjoyed my work."

Transport Manager for Suffolk Constabulary, Bob Ward, says, "Fifty years is an incredible achievement in this day and age. Norman has seen a lot of change, especially in respect of the vehicles we operate, from Ford Escorts, Morris Minors and Minivans, through to our current hi-tech/high performance Volvos. Norman has always showed commitment and dedication towards keeping the vehicles at Bury and the surrounding area on the road and in top condition.

"Norman is a really nice guy, I think his laid back attitude to life has helped to see him through the past 50 years, come hell or, dare I say "high water" he always maintains a positive outlook and still enjoys coming to work.

"I have had lots of positive feedback and comments from both Police Officers and staff about the excellent job the team do at Bury, and their skills and professionalism are a credit to them."

Deputy Chief Constable Jacqui Cheer added, "I would like to say thank you on behalf the whole force for all the work Norman has put in, keeping us on the road. Some people have completed 40 or 50 years'
service, but through taking up a civilian role after retiring as a police officer. Norman is unique, having been in the workshop his whole working life and clearly still enjoying his job.

"He is a real asset to the Constabulary."