Outstanding Officers of Camden Borough Recognised
Outstanding Officers of Camden Borough Recognised
Tuesday, 29 March, 2011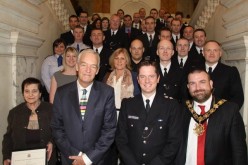 Senior Management gather for Borough Commendations

Forty Police officers from Camden Borough gathered at the Camden Town Hall Civil Chambers on Friday 25th March at 1.30pm to receive commendations from the Borough Commander. The commendations recognise attributes from professionalism, outstanding commitment and leadership to detective ability, tenacity and investigative skills.

The ceremony, attended by the senior management team, also honours numerous members of the public who have assisted the police through partner agencies such as Camden CCTV or the larger police family including the forensic team and Special Constabulary. It also recognises public spirited acts by members of the community who put themselves in danger to uphold the law.

Officers who were recognised include an officer who tackled a knife wielding man with mental health problems, risking his own life in order to bring the incident to a safe conclusion. Another was commended for her calm and professional approach whilst administering first aid, when off duty, to a badly injured child. A whole team of officers were also praised for their part in the investigation and arrest of a man for murder.

Chief Superintendent John Sutherland said: "Our officers and staff face daily challenges in the fight against crime, as well as the prevention and detection of crime, whether it be on the streets, or in the office, or in the investigation process. A borough is only as good as its officers and it is for this reason that we are one of the Met's finest.

He added, "These officers carry out their duties with professionalism, bravery and commitment to ensure that the streets of Camden are a safer place. It gives me great pride to be able to present these commendations to those who are truly deserving of them."