PCSO awarded after helping to save a man's life at airport
PCSO awarded after helping to save a man's life at airport
Thursday, 24 March, 2011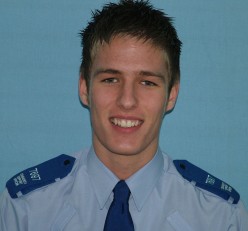 A PCSO, who helped to save a man's life after he had collapsed at Manchester airport, has been given a prestigious award.

PCSO Marc Brooks was presented with the Liverpool Shipwreck & Humane Society Award at a special ceremony held at Accrington Town Hall this afternoon (Wednesday 23 March).

Around 5pm on Thursday 15 April 2010, PCSO Brooks was at Manchester Airport waiting for news of his flight to Mexico which had been delayed due to the volcanic ash cloud, when he discovered a man had collapsed behind him. He was not breathing and had no pulse.

PCSO Brooks rushed over to help the man and called for an ambulance. He protected the man's head and cleared his airways before starting CPR until he started to breath.

PCSO Brooks continued to help, as paramedics arrived and the man was taken to hospital.

PCSO Brooks said: "When faced with a situation like this, you just do what you can to help. I was really pleased I could help the man and am happy to have been recognised."

Chief Superintendent Bob Eastwood added: "Marc has shown great skill and composure in a very challenging situation. I am extremely proud of what he has achieved and he is a credit to both the Constabulary and the community."

Twenty-four year-old Marc Brooks has worked as a PCSO in Accrington for four years two months. He was presented with a Chief Superintendents Commendation for helping to save a woman who was suffering from an allergic reaction outside Accrington police station in the summer of 2009.

The Liverpool Shipwreck and Humane Society makes honorary awards of medals, parchments, certificates and letters of commendation to people who voluntarily put their own lives or safety at risk by saving or attempting to save other people who are in danger in cases of shipwreck, drowning, fire or any other hazards.

Since the Society was first formed in 1839 it has awarded over 9,200 medals, medallions and bars in gold, silver or bronze as well as a countless number of parchments, certificates and letters of commendation. These awards reflect the varying degrees of risk and it is only in rare instances that in memoriam awards are made to rescuers who lose their life in the attempt.