Belgian Detectives Join BTP
Belgian Detectives Join BTP
Wednesday, 09 February, 2011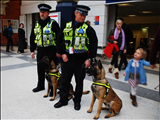 British Transport Police has recruited two new Belgian detectives to help keep the rail system safe from bombs.

The two Malinois, or Belgian Shepherd Dogs, may not be using their "little grey cells" like their famous compatriot, but they will be exercising the more than 220 million olfactory receptors in their noses to search out explosives on the rail network.

Police dogs Koda and Dibble are the first of their breed to be used by BTP, and the only ones in Britain in this role.

The two are passive explosive detection dogs, who can monitor the environment around people and crowds, as well as their luggage, to detect a wide range of explosives.

They were awarded their licences as qualified police dogs - their licence to sniff - following successful completion of an eight week initial course.

"We chose Malinois because of their high intelligence and enormous drive and stamina," says Sergeant Bill Pearson from BTP's explosives search dog section (ESD).

"Compared with Labradors and Spaniels, they offer us extended duration operations and are an important enhancement to our overall counter terrorist capability. They operate like passive drugs dogs and are used for target hardening, to make it more difficult for explosives to be transported on the rail network."

Training took place at the BTP Dog Training School, as well as a number of locations around London including Gatwick and Heathrow airports, Liverpool Street, St Pancras International and Waterloo stations.

"Malinois are naturally friendly and have a willingness to work, which makes them ideal for police work," said Sergeant Pearson. "We are the only police force currently using this breed in this role, other forces do use them for public order work, which just shows how versatile they are."

Koda and Dibble join BTP's Explosives Search Dog section, the largest of any in the country. They have lived with their handlers PCs Mark Reed and Steve Gibson from 12 weeks old and are litter brothers.

Their arrival brings to eight the number of passive detection dogs - this will increase to 10 by the time of the 2012 Olympics.

Passive detection dogs can work in a static position or on the move as they pass through crowds. Their effectiveness was tested in trials carried out in 2006 with the Department for Transport and the Defence Scientific and Technical Laboratory (DSTL).

The LUNR trials (London Underground and National Railway) also tested screening equipment such as body scanners.

Malinois have an average lifespan of 10-12 years and are also in service with the US and Israeli secret services.