Hackney police cadets taste life at the top
Hackney police cadets taste life at the top
Friday, 19 November, 2010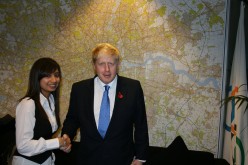 Volunteer Police Cadets (VPC) from Hackney got a taste of life at the top when they shadowed a number of senior police officers from both New Scotland Yard and Stoke Newington Police station on Friday, November 12. One lucky police cadet, Maariya Ahmed from Hackney got to spend the day with the Mayor of London, Boris Johnson.

The police officers the cadets shadowed included Assistant Commissioner Ian McPherson and Deputy Assistant Commissioner Rod Jarman at New Scotland Yard, and Chief Inspector Andy Barnes and Detective Chief Inspector Gary Bruce at Stoke Newington Police Station in Hackney.

Over 40 cadets from Hackney and other boroughs took part working in a number of departments and partner organisations including the Air Support Unit, CO19 - the Met's firearms unit, the MPA, the Home Office and Office of the Children's Commissioner. It allowed the young people in the VPC, especially some newer members, the opportunity to see at first hand how the Metropolitan Police Service works.

It was part of the fourth annual 'Take Over Day' on 12 November organised by the Children's Commission, where young people shadow and "takeover" the roles of high-ranking officials, company directors and other high-profile individuals to ensure their voices are heard.

Hackney volunteer police cadet, Maariya Ahmed, said, "Shadowing the mayor was a once in a lifetime opportunity. One day in the Mayor's life was an incredible experience as I have seen that it is not easy to run London and you have to be on a bike to catch up to the speed the Mayor works at - he is so active and passionate about his work! I have also learnt that dedication and having the drive to make things happen is the key to success, and it is something that would help me in my future career and further education as I'm currently studying at university. I assisted the Mayor with various tasks that he performs on a day-to-day basis which I found challenging but he performed it with great fluency."

Hackney volunteer police cadet, Zakarayia Ahmed, said: "I got to accompany two police units, TSG on Thursday and the Air Support Unit on Friday. Both were really interesting and fun days out. I learned a lot about police units that I have not met before. From meeting these units I have created links with them and Hackney cadets. These two units have really opened my mind as to how expansive the roles are in the MPS and have given me food for thought as to what I want to do when I become an officer."

Jill Dimartino, Hackney's Volunteer Police Cadets manager, said,

"This was a fantastic opportunity for Hackney's police cadets to spend a day with some high-profile and influential individuals across London and I know they are all very grateful for this opportunity. The cadets do a great deal of good work in our local community, assisting in police test-purchase operations, handing out leaflets at events and working towards the Duke of Edinburgh award so it is great to be able to reward them in this way. I hope the Take Over day will help them to enhance yet further the relationship between police, young people and the local community."