New £27 million area command headquarters officially opened
New £27 million area command headquarters officially opened
Monday, 01 November, 2010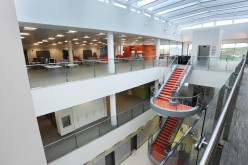 A new £27 million Northumbria Police area command headquarters in North Tyneside will be officially opened on Monday, 1 November.

The building, located on Middle Engine Lane, Wallsend is a state-of-the-art facility that will be the base for up to 300 North Tyneside police officers and staff and also has a custody suite with 40 cells.

This is the first new police station to be built by Northumbria Police Authority for Northumbria Police in 10 years. With the capital resources in place, and through careful financial planning, the Authority was able to buy the land in October 2006. Work began on the site in April 2009 and on Monday, 8 November, the building will become an operational police station open to the public.

With community policing at the heart of the design, the building meets the needs of a 21st century police force. It will be open twenty-four hours a day, with onsite parking for visitors and public transport links.

Stretching over three floors, the modern design is dominated by a glazed concourse that allows natural light into the heart of the building, making it a welcoming space for the public and the officers and staff based there. The largely open-plan office accommodation has been designed to meet the needs of a modern police force but is flexible and can be adapted and changed to meet any future requirements.

The custody suite of 40 cells is one of the most innovative in the country. From the operational hub, sight lines are maximised to ensure custody safety and security in all areas.

The building has been designed with strong green credentials and has achieved an internationally recognised BREEAM excellent rating for environmental sustainability. It has solar panels to heat domestic hot water and guttering that harvests rain water, which is reused in flushing toilets. There is also a bio-mass boiler that uses locally-sourced wood pellets for heating.

Later in November, a new public artwork will be installed, which was commissioned for the new headquarters. Created by local artist Cate Watkinson, 'Total Policing' reflects the values of Northumbria Police and is circular, encompassing all, sheltering and giving protection. Constructed in stainless steel and glass, the artwork will stand outside the new building. At night, the work will be lit using blue light; the same colour as the blue lamp once displayed outside every police station in Britain.

The new headquarters will be the base for Wallsend's Neighbourhood Policing Team, 24/7 response officers, CID and the senior management team. Wallsend Police Station will close on Monday, 8 November, although members of the public will still be able to use the yellow telephone outside. The Wallsend Neighbourhood Policing Team will also work from a new base in Wallsend Town Hall on High Street East, Wallsend. North Shields Police Station plus Whitley Bay and Forest Hall Police Stations will be open 9am to 5pm, except on bank holidays.

Councillor Mick Henry, Chair of Northumbria Police Authority said: "Part of our role as a Police Authority is to provide the resources Northumbria Police needs to do a good job and fight crime; and that includes buildings. The state-of-the-art facility means that policing services can be brought together under one roof, improving efficiencies. The green credentials of the new headquarters will also save resources.

"Built and designed by local companies, this represents a significant investment in the local economy. Over 30 local firms have worked on the site, providing employment in construction, and engineering for local people. This new headquarters is a modern, fit-for-purpose police station and represents a huge investment in policing for the people who live, work and visit North Tyneside," he said.

Sue Sim, Temporary Chief Constable of Northumbria Police said: "The new North Tyneside Area Command Headquarters will enable us to continue to deliver high quality policing services the people of Tyneside expect from us. Although housing lots of specialist teams, for local people this is their local police station that will be open twenty four hours a day, all year round.

"We're delighted that our North Tyneside policing teams and staff will be working from this modern, fit-for-purpose police station. The building has been designed to meet the needs of Northumbria Police now, and in the future, and gives us the flexibility to develop our services so that we can continue to drive down crime and anti-social behaviour and make North Tyneside an even safer place to live," she said.