PSCOs praised by paramedics
PSCOs praised by paramedics
Thursday, 28 October, 2010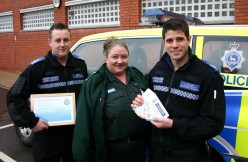 Two police community support officers based at Stevenage Police Station were commended by a local paramedic, for their help and assistance at a recent incident they attended in the town.

PCSOs Jason Hart and Chris Watson were alerted to a woman who was taken unwell and was suffering from a fit whilst shopping in Tesco's back on August 12. It transpired the woman was also heavily pregnant. The woman, who was Hungarian and didn't speak any English at all.

Chris said: "We were in the store when we saw a crowd of people gathering. When we walked over, we saw the woman on the floor. We immediately called for an ambulance and started giving first aid. The lady couldn't speak any English and it wasn't immediately apparent she was pregnant. We carry a book of picture cards for use in exactly this situation. It's called a 'Pocket Comms' and is a series of images that depict different pictures on many subjects such as sickness symptoms or flags to show nationality. She was able to point at a picture of a pregnant woman and that information proved invaluable in this critical situation as we were able to pass that onto the ambulance crew."

Thankfully, she recovered after being taken to hospital and actually had the baby the following day and both are doing fine.

Paramedic Karen Nixon, who was first at the scene praised the officers , she said: "Chris and Jason done a terrific job assisting me to treat and stabilise the patient. They also looked after her relatives until the arrival of my colleagues. They both went above and beyond and were both extremely kind and helpful throughout."

Stevenage Chief Inspector Richard Liversidge said: "I am very proud of our PCSOs efforts during this incident, which must have been a particularly traumatic for the lady. This incident demonstrates the close working relationship between the Neighbourhood Policing Team, the East of England Ambulance Service and other town Centre partners such as Shopwatch. I am pleased their hard work and skills have been recognised in this way."

One of the trusts communications managers Gary Sanderson, who arranged the presentation said: "It is always pleasing to receive such a nice story such as this one within our community. Karen was very grateful indeed for the police officers contribution to help the woman. Both the police and paramedics were able to use their multi-lingual phrase books to communicate with the woman and her family which was instrumental in finding out what exactly was going on this unfortunate day."