New uniforms help identify scientific support workers at crime scenes
New uniforms help identify scientific support workers at crime scenes
Wednesday, 20 October, 2010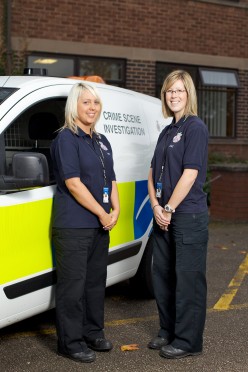 SCIENTIFIC support workers have been kitted out with new uniforms so that they are easily identifiable at crime scenes.

Lancashire Constabulary's 48 crime scene investigators will wear the navy blue polo shirts, trousers and fleeces marked with 'CSI' so that the public know who they are and the role that they are playing in the investigation.

CSIs previously wore their own clothes while conducting their investigations, which was impractical and did not present a professional, corporate image.

The new uniforms are also more suited for the rigours of carrying out physical work at crime scenes.

The fleet of 34 vans used by the scientific support workers have also had liveries put on them so that they too can be identified.

Beth Brown, principle CSI for Lancashire Constabulary, said: "Crime scenes can be busy places and victims of crime can find investigations overwhelming. The new uniforms are not only practical when carrying out what can often be dirty work, but they also give us a visible presence at the scene and present a corporate image.

"CSI workers will be easily identifiable to both victims and colleagues and their role in the investigation is highlighted. It also makes it clear that they are not police officers, which has previously caused confusion for victims."

Uniforms will be worn by CSIs who work on major incidents, as well as volume crime scene investigators who carry out work at the scene of crimes such as burglaries and car break-ins.