Children reap the benefits of criminals' cash
Children reap the benefits of criminals' cash
Monday, 11 October, 2010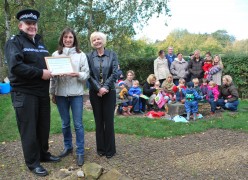 Left to right: Inspector Dave Porter, Liz Carlsen from the toy library, Anne-Marie Bostock, Harrogate College Principal and Paul Winter, Parent Support Advisor from North Yorkshire County Council with the children and parents from the toy library
Young children and their families in Harrogate and Knaresborough are set to benefit from the first chunk of criminals' cash handed over from the 'Why Should They?' campaign.

£1,650 has been donated to the Harrogate and Knaresborough Toy Library for the purchase of books, jigsaws, story sacks, activity packs and toys in dual languages.

The charity made a successful bid for the money in May this year when North Yorkshire Police and the Local Criminal Justice Board made £24,000 of criminals' cash available for community groups and charities.

Liz Carlsen from the toy library said: "We are absolutely thrilled that our bid was successful. The money will enable us to expand our range of resources and help many families in the area.

"Working with the local Minority Ethnic Achievement Team we can now provide dual language books, story sacks and other specialist equipment so that local Polish, Indian, Nepalese and Traveller families can enjoy the toy library sessions, make friends and use the loan service."

The money was handed over at a ceremony held today at Harrogate College where the toy library hosts regular outdoor play-sessions. Under a partnership scheme with the college, a secure outdoor play area has been established on campus which enables children and their families to meet and play while at the same time provides a hands-on learning opportunity for students of early years education.

The cheque was presented by Inspector Dave Porter of Harrogate Safer Neighbourhood Command, he said: "It's a great pleasure to be able to make a contribution to our local communities in this way. What makes it even more satisfying for us is that the money has been confiscated from criminals who, through their criminal activity, have taken from law-abiding citizens.

"It is important that all members of society feel welcome and part of their local community and for everyone to understand each others culture and lifestyle. We are delighted to be able to support the Toy Library with this important service."

Over 200 applications were made by groups from across the county and were judged by a panel against a set criteria. The panel included members of North Yorkshire Police, North Yorkshire's Local Criminal Justice Board and local newspaper editors.

The cash was available to any community groups, projects or initiatives. The projects must be deliverable within a certain timescale and have a lasting impact for the community.

There were 14 successful bids including the Harrogate and Knaresborough Toy Library.