Top Special appointed today
Top Special appointed today
Friday, 01 October, 2010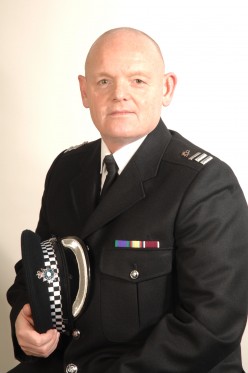 Stephen Merrett
South Yorkshire Police's Chief Constable Meredydd Hughes has today (Friday 1 October) officially appointed Stephen Merrett as the new Chief Officer of the South Yorkshire Police Special Constabulary - recognised by ACPO as the best team in the North East.

This is the culmination of a personal ambition for Stephen, who is currently employed as Community Policing Development Officer (support staff) in the Community Safety Department at Nunnery Square, and has been a Special for just four years. Previously a Logistics Manager for a national company, his dedication and leadership has seen a rise in time committed by our Special Constables to 49,000 hours (equivalent to £1.16 million of free policing) and the increased professionalism and skills base of the 218 staff currently volunteering.

Superintendent Eddie Murphy, Stephen's boss said: "He has worked tirelessly for the last year in overseeing the rise in the reputation of our Specials to the extent that they are now recognised by the ACPO lead for the Special Constabulary, ACC Michael Banks, as the best team in the North East region and one of the top-performing nationally."

Stephen said of his appointment: ".I am immensely proud to have met with the Chief Constable this morning and in attaining the rank of Chief Officer. The Special Constabulary in South Yorkshire has been taken to a new level in the past twelve months and I look forward to further enhancing the credibility of a resource that can be relied upon."

Among their many duties, SYP's Specials now provide cover for Sheffield Wednesday FC and Sheffield United FC matches, eight are based with the Roads Policing Group at Sheffield and at Maltby, and 16 are trained to pull vehicles over using marked police cars' lights and sirens - a national first!