Forest Police Officer Wins Bronze Medal at Elite European Track Championships
Forest Police Officer Wins Bronze Medal at Elite European Track Championships
Wednesday, 29 September, 2010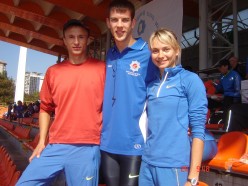 L-R) shows Oleksandr Borysyuk (winner of men's 1500m), PC James Miller and Anna Mischenko (winner of women's 1500m)
A Forest of Dean police officer won a bronze medal at an elite European athletics championship last week.

PC James Miller, who is a member of the Forest North Safer Community Team, achieved the feat in the 1500 metres, and also came fifth in the 800 metres and fourth in the 400-metre relay.

He was one of an 11-person squad representing Police Sport UK against around 500 other police officers from across Europe in the European Police Track and Field Championships in Donezk in the Ukraine. Amongst those competing was former professional athlete Serhiy Lebid from the Ukraine, who once finished seventh at the Olympics.

James, 25 and from Tewkesbury, runs regularly for his club Cheltenham and County Harriers.

He said that the achievement marks the pinnacle of his athletics career to date: "A few key sessions devised by my coach and I gave me the confidence that I could attempt the 800m/1500m double but the 1500m bronze medal was a huge surprise.

"Sometimes the greatest risks can lead to the greatest rewards. I knew that leading from the front was a risk but I was brave. I controlled the race and tactically ran my finest race.

"Competing against some world-class, full-time athletes; my bronze feels like a gold medal. I am overjoyed with this success.

"The competition gave me an opportunity to meet police officers from around Europe. I got on very well with some of them and enjoyed chatting to them once the seriousness of competition had finished.

"I am under no illusions. I know this is not the Olympics, but I do not know many Olympians who work a night shift 48 hours before the final.

"Winning has to be the aim next time in 2014."

James also thanked all the people who have supported him throughout his running career so far.