New £1.8 million extension to increase facilities at Police Rehabilitation Centre
New £1.8 million extension to increase facilities at Police Rehabilitation Centre
Monday, 27 September, 2010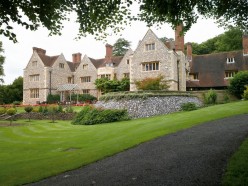 Regional construction company Beard has begun work on a £1.8 million extension for Flint House Police Rehabilitation Centre near Goring-on-Thames in Oxfordshire. The extension, which comprises 14 ensuite bedrooms, will provide additional high quality accommodation for the many serving and retired police officers who receive treatment at the centre, increasing the total number of bedrooms to 145.

Due for completion in June 2011 this will be followed by a second year-long phase of construction work to extend treatment rooms and provide a further 11 bedrooms.

Staffed by a dedicated team of physiotherapists, nurses and healthcare professionals, Flint House assists over 3,000 injured police officers from forces across southern England each year, helping them back to full operational health.

Chief Executive, Lyndon Filer explains: "We are a registered charity, funded almost entirely by the officers themselves. With a growing number of officers receiving treatment each year, over 3,300 in 2009, it is essential that we continue to provide the very best of facilities. The new extension will add much needed capacity and follows a successful high quality project to extend the gymnasium and upgrade 35 bedrooms which Beard completed in March."

Beard's wide experience of working with police properties across the Thames Valley and with occupied sites is an important factor for Flint House where the day-to-day running of the centre has to take priority. "Ensuring that we understand the wider business requirements of Flint House so that they can maximize occupancy throughout the construction process is extremely important," explains Beard contracts manager Craig Mitchell. "Masking construction activity and minimizing disruption has been achieved in part by setting up the site compound on an adjoining field and using a farm track for access".