Staff at Brent awarded for no sickness in 10 years
Staff at Brent awarded for no sickness in 10 years
Monday, 13 September, 2010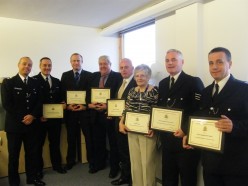 Photo l-r Borough Commander Matthew Gardner, Superintendent Alisdair Ferguson, Detective Sergeant Mark Fletcher, Detective Sergeant Bob Sherriff, Inspector Roderick Adams, Cathy Burgess, Sergeant Liam Tierney and Sergeant Neil Tulloch


The Brent Borough Commander gave recognition to 15 members of staff at Brent for their exemplary attendance. 12 police officers and three police staff have all worked for the Metropolitan Police for over ten years and in the ten years have never had a day off sick. This is an excellent achievement as officers on front line duty are prone to injury in their line of work.

These members of staff were invited to meet with the Borough Commander where he personally thanked each one for their achievements.

Sickness at Brent is at an all time low and is well below the average in comparison to the rest of the organisation.

Those officers awarded are
Superintendent Alisdair Ferguson
Detective Superintendent Steve Kershaw
Detective Chief Inspector Steve Burns
Inspector Roderick Adams
Detective Sergeant Bob Sherriff
Detective Sergeant Mark Fletcher
Sergeant Neil Tulloch
Sergeant Liam Tierney
Detective Sergeant Andrew Ansell
Sergeant Matthew James
Sergeant Christopher Simkins
Sergeant Richard Whittle
Cathy Burgess
Damian Kehoe
Sham Luhar

Brent Borough Commander Matthew Gardner said: "We are good at rewarding our exemplary people through annual ceremonies and commendations but sometimes we do not reward our 'outstanding' members of staff as much as we should. This group of colleagues are excellent role models, but there are many more on Brent Borough. I want to acknowledge and reward my people. Over the last 12 months 309 Police Officers, 52 Police staff and 42 PCSOs have not had one day off through sickness. This is an achievement in itself. We have some of the lowest sickness levels in the MPS."