Charitable Special takes on Stroud Marathon
Charitable Special takes on Stroud Marathon
Friday, 10 September, 2010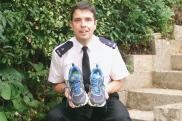 Robert Cook takes on half marathon



Gloucestershire's Stroud Special Constable Robert Cook is preparing himself to take part in this year's Stroud Half Marathon and is encouraging people to support his chosen charities by sponsoring him.

Rob is training and fundraising hard for the event, which takes place on Sunday October 24.
Robert said: "This is my opportunity to help raise money for value causes and I'll be donating
my sponsorship cash from my family and the kind Stroud community to Cancer Research and the Children's Hospice Southwest."

Any money raised by his Gloucestershire Police colleagues, or pledged directly to Rob in person, will be given to Leicestershire PC David Robinson, a brain tumour sufferer, whose family are trying to raise £100,000 to enable him to take part in a medical trial in the USA in the hope of prolonging or providing a better quality of life for David.