Police Pay Tribute To Fallen Colleagues At 8th Cops Survivors Weekend
Police Pay Tribute To Fallen Colleagues At 8th Cops Survivors Weekend
Wednesday, 28 July, 2010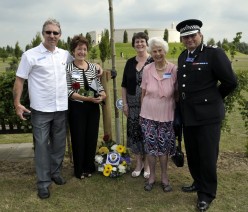 Mark Lambert, Kate Hunt, mother of PC Ryan Hunt killed in 2006, Angela Bryan, Mary Green and Chris Sims at the West Midlands Police Tree


Over 500 bereaved family members and police service representatives gathered together at the National Memorial Arboretum (NMA), Staffordshire on Sunday 26 July for the 8th Care of Police Survivors (COPS) Service of Remembrance. The charity helps families of police officers who have been lost in the line of duty.

In his opening address, Sir Keith Povey, COPS Patron, welcomed those present, in particular those 'survivors' who were attending the first time. He said it was fitting that so many senior representatives from the police service and representative bodies were in attendance showing their support, and giving recognition to family members that their officer was not forgotten.

He felt comfort in the service being held at the NMA where defenders of the country and lives from the military and emergency services were remembered eternally in such beautiful surroundings. He announced that he was intending to work with others to launch an initiative for all members of the police family to get involved in the NMA Appeal which is set to transform the surroundings into an even more impressive Centre for Remembrance, and he was keen that the police family were involved in playing a key part in this development.

Sir Keith paid tribute to Christine Fulton, COPS President who was standing down in September. Christine had done so much as co-founder of COPS in developing the Charity to what it is today. On behalf of survivors he thanked her for her tireless efforts, outstanding unselfish commitment and real friendship and kindness to survivors.

This year's Volunteer of the Year Award was presented to Suffolk Constabulary for their unstinting support of COPS over the years, in particular their initiative of the '30p is plenty' scheme where officers from the force donate 30p per month to COPS. Although a small number of other forces have already signed up to this scheme Sue Brace, Fundraising Co-ordinator, expressed the hope that this scheme would be adopted by all forces.

During the service readings were given by survivors and the Roll of Honour of the 7 officers who had lost their lives during the last 12 months was read.

Chris Sims, Chief Constable of West Midlands Police and Trustee of COPS delivered the closing address and thanked the NMA for their support in making sure policing continued to be such an important part of the NMA. He referred to the role of COPS and how it uniquely tailors the support each family requires, with services delivered to the bereaved by those who have been through the same experience. He hoped that families attending the service would move forward over the next the next 12 months with a little more strength following the weekend.

This was the 8th survivors weekend held, the first in 2003 with just 64 attendees and one senior officer. COPS has grown significantly over the years and helps not only those who have recently lost an officer, but also those from many years before.

During the weekend, Angela Bryan dedicated a plaque in memory of her brother David Green, a West Midlands officer, who died in 1975 aged just 20 years old. In the presence of survivors, including David's mother Angela and members of her family, she spoke with such poignancy and humour of her brother David. COPS was not around at the time of David's death and Angela's dedication to David gave even greater evidence of how COPS continues to help survivors and how important it is that officers who lose their lives in the line of duty must and will never be forgotten.