Police officer saves man from flat fire
Police officer saves man from flat fire
Friday, 23 July, 2010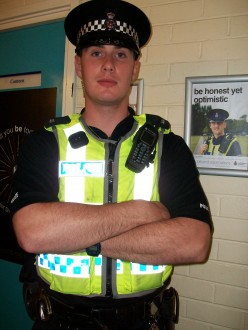 PC Holmes



A POLICE officer has been praised for his quick actions in saving a man from a flat fire.

PC Zac Holmes was on patrol in Fleetwood at around 1am yesterday (THU) morning when he saw smoke coming from a flat in Windsor Terrace, Fleetwood.

The 24-year-old officer gained access to the building and made his way to the top floor, where he found the flat filled with acrid smoke. A frying pan of burning sausages was on the stove and PC Holmes removed them from the heat source, before waking the 41-year-old-occupant, who had fallen asleep while cooking, and helping him from the premises.

The other flats in the building were evacuated while the fire brigade checked the property.

PC Holmes said: "I was on routine patrol during the early hours when I drove past the property and heard an audible alarm. I stopped my car and when I got out and looked up I saw smoke coming from the top floor flat.

"I immediately called for the fire service and made into the building to check if anyone was inside. As I went up the stairs the top corridor was filling with smoke. I opened the flat door which was unlocked and could see that the flat was full of smoke. Through this, I could see a man slumped in a chair in front of the cooker where the smoke was coming from.

"I knew I needed to get him out quickly so I took a deep breath and ran in. I saw that the smoke was coming from a burning pan on the hob so I quickly moved the pan off the heat then shouted at the man and pulled him up off his seat.

"The man came round and I then pulled him from the address, followed by his dog. Once he was outside, I quickly got all the other occupants out of the other flats as we did not know at that stage how serious the incident was going to be. But fortunately the fire service responded swiftly and they were able to make the flat safe again."

Sgt Finn Quainton, Fleetwood Police, said: "Having spoken with the other emergency services at the scene, it was made blatantly clear to me that Pc Holmes' swift and dynamic actions preserved the life of not only the occupant, but also the occupants of the other flats, and those in the neighbouring terraced properties. He is to be commended for what he did."