Barnsley boost beat time
Barnsley boost beat time
Tuesday, 20 July, 2010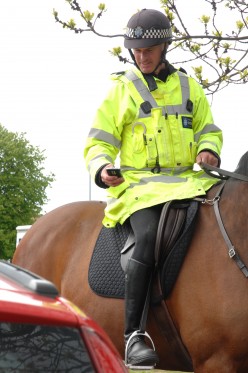 All Frontline officers and Police Community Support Officers (PCSO) in Barnsley now have access to police records on the move, meaning less time at the station and more time in the community.

PC Jason Pearson, from Wombwell police station, recently became the 1,000 officer to be trained and issued with a BlackBerry Smartphone and by February 2011 all frontline officers and PCSOs in South Yorkshire will have a device.

The BlackBerry allows officers to access real-time police information and records to identify a person and vehicle and will eventually allow officers to complete certain forms.

Sergeant Simon Davies, Project Manager at South Yorkshire Police, said, "enabling our officers to access key information on the move is a major step forward and we're expecting to see the community benefit from a more visible force continually patrolling the neighbourhoods."

Work is currently underway to add further functionalities to the device, which officers currently have to do back at the station, such as submitting intelligence reports regarding offenders and gaining key information about incidents, which they have to attend. Sergeant Simon Davies said "Reducing the amount of time that officers need to spend filing reports back at the station will give them more time to spend out on patrol, delivering an improved service to the community."

In addition, at the end of the year, South Yorkshire Police plan to add mini fingerprint scanners to the BlackBerry, that link to the identify a person and vehicle software. This will allow officers to check an individual's identity at the roadside within two minutes, enabling faster identification of those who are known to the police and allow officers to spend more time in the community.

Should the device be lost or stolen it is automatically locked and password protected within 15 minutes. Once it has been reported missing the IT department are able to remotely 'kill' the device to prevent abuse or breach of data.