Blackburn Inspector heads east to teach Human Rights
Blackburn Inspector heads east to teach Human Rights
Monday, 19 July, 2010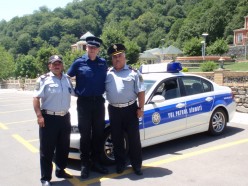 Inspector Crowe with local patrol officers
A BLACKBURN police Inspector, recognised as one of the worlds leading experts in Human Rights legislation, has been helping to educate senior police and council chiefs in Azerbaijan.

Inspector Gary Crowe, from Eastern Division's Operations Support Unit, visited the East European country earlier this month, in a bid to help them become Human Rights compliant.

His presentation, on practical policing issues relating to freedom of assembly and electoral campaigns, was delivered to an audience of 25 high ranking police officers and council chiefs.

Inspector Crowe was one of four international experts including a representative from the Council of Europe, a Professor from the University of Durham and a Professor of Constitutional Rights from Slovenia, invited to present by the Council of Europe.

He said: "It was a fantastic opportunity and I was pleased to support the Azerbaijan police force.

"It was an honour and privilege to be asked by the Council of Europe. I learnt a lot about what it is like to police a different area under totally different circumstances."