Staff awarded after 'Leadership Journey'
Staff awarded after 'Leadership Journey'
Friday, 16 July, 2010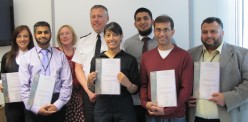 NINE officers and staff were recognised for their achievements after completing a brand new leadership development course for black and minority ethnic members of staff.

Chief Superintendent Bob Eastwood presented certificates to Shaf Mahmood, Mo Ravat, Nisar Ahmed, Ayub Mal, Surraiya Issa, Salman Yusuf, Shazia Bibi, Yusuf Lorgat and Rabiya Jiva for completing the six month course.

The flagship programme - 'The Leadership Journey', which has now been rolled out across Lancashire, is aimed at police staff and officers in junior or middle management roles who wish to develop their leadership skills and their self confidence.

Run by Lancashire Constabulary in partnership with East Lancashire Chamber of Commerce and Blue Skies People Development, it is a six month programme using motivational leadership workshops, regular networking and mentoring, personal goal planning, coaching and psychometric testing. The programme seeks to develop learning capabilities, enhance personal performance and enable the Constabulary to grow a base of future leaders from BME backgrounds.

The course also provides an opportunity for participants to gain recognised qualifications which can act as university credits to be put towards foundation degrees.

Divisional Commander Chief Superintendent Bob Eastwood said: "This is an innovative programme which will provide members of staff with key leadership skills and I am extremely proud to present them with certificates of achievement."

Surraiya Issa, who recently completed the programme added: "The course has been invaluable to me. I have learned a lot about myself and my particular leadership style. I have found the course motivational and inspirational throughout all aspects of my development. It has been hard work but this has paid off for me and hopefully my future career. My personal confidence has grown due to the staggered learning which could be completed in my own time fitting around family commitments. I would recommend the course to anybody in a similar role.

"I have become more confident and am beginning to see the leadership potential in me."