Off duty North Yorkshire officer wins regional Bravery Award
Off duty North Yorkshire officer wins regional Bravery Award
Monday, 12 July, 2010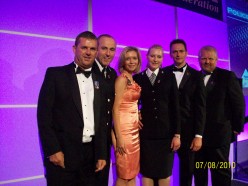 (Left to right: Mal Taylor ( Police Federation), ACC Tim Madgwick, Rachel Riley (Countdown), PC Sarah Lacy, Sarah's partner, Mark Botham (Police Federation) ).
An off-duty police officer who helped to rescue a couple from a blazing house fire has won a prestigious bravery award for her courageous actions.

York-based PC Sarah Lacy carried out the rescue along with four members of the public - Grant Law, Lee Nicholson, Lee Lyons and Chris Cooper - when fire and smoke engulfed her neighbours' home in Strensall, near York, in June 2009.

She was presented with the award for the North East of England at the national Police Bravery Awards ceremony at the Dorchester Hotel in London last night (8 July 2010).

The awards are only available for police officers but Mark Botham, of North Yorkshire Police Federation, is arranging to meet with and, on behalf of the North Yorkshire Police Federation, give official recognition to Mr Law, Mr Nicholson, Mr Lyons and Mr Cooper who all put their lives at risk to rescue the couple.

To recount that fateful day, smoke was billowing from a window in the property opposite PC Lacy's house. She ran back inside and called the fire brigade. When she went back out she saw a man hanging out of the bedroom window choking on the smoke. PC Lacy shouted for help and a neighbour brought a ladder along.

PC Lacy helped get the man down from the window as another man arrived and told her that his mother was trapped inside. Asthmatic PC Lacy accompanied the man back into the smoke-filled property when a large bang came from the kitchen as the glass smashed. The man rushed upstairs bringing his mother back down. When they got the woman to safety, PC Lacy performed CPR until the other services arrived.

PC Lacy was key to the survival of both occupants and her bravery, despite her asthma, is highly commendable.
Mark Botham, Chairman of North Yorkshire Police Federation, said: "The actions of PC Lacy clearly show that police officers are not risk averse and are willing and able to serve the public whether on or off duty 24 hours per day, 365 days per year.

"PC Lacy acted in the highest traditions of the service and is a credit to North Yorkshire Police and the police service in general. At a time when police tactics are being examined under the microscope, even though off duty she acted in an exemplary manner. I am delighted with her success at the awards ceremony and am pleased that I will have the honour of meeting and presenting corticated and gifts to Grant Law, Lee Nicholson, Lee Lyons and Chris Cooper within the next week or so."

Assistant Chief Constable Tim Madgwick, who attended the ceremony, said: "I am delighted that PC Lacy has been recognised in these prestigious awards which honour the bravery and professionalism of police officer up and down the land.

"To help save lives is the ultimate call of duty for any member of the emergency services. The fact that PC Lacy carried out her brave actions while off duty clearly demonstrates the high calibre of officer and person she is.

"On behalf of her colleagues at North Yorkshire Police, I want to pass on our congratulations to PC Lacy - she truly deserves it."