Hyndburn Community Safety Partnership to show domestic violence the red card
Hyndburn Community Safety Partnership to show domestic violence the red card
Friday, 04 June, 2010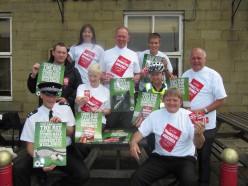 DOMESTIC violence has been shown the red card as Hyndburn's Community Safety Partnership launches an innovative new campaign to reduce incidents throughout the World Cup season.

The eye catching campaign will run over the summer and will feature lively football themed material, including red cards and posters which will be handed out in the Borough's pubs, supermarkets, off-licenses and betting shops.

Red cards displaying the message 'Show domestic violence the red card' will feature key contact information for victims of domestic violence including the police, the national domestic violence helpline and Hyndburn and Ribble Valley Domestic Violence team (HARV). The handy credit sized cards will also include useful fixture lists for the World Cup.

Thousands of beer mats will be handed out to local pubs in the lead up to the World Cup and bar and door staff will be handed t shirts and jackets featuring the red card slogan. Bluetooth technology will be used to get the message out to fan's mobile phones.

Speaking about the move, Cllr Brian Roberts, Chair Of Hyndburn's Community Safety Partnership said: "We set up the campaign in response to research which shows an alarming rise in incidents during big sporting events, with some key matches sparking a dramatic rise in reports of abuse.

"In fact in during June and July of the 2006 World Cup domestic violence reports rocketed by over 25 per cent on match days and when Portugal knocked England out of the World Cup on 1 July there was a massive 37 per cent surge in reports of domestic violence.

"We want people to enjoy the World Cup whilst doing our utmost to stop the domestic violence which the heightened atmosphere can spark."

Sgt Graham Brownsmith from Accrington police added: "This campaign will send out a clear message that domestic violence is never acceptable and it will never be tolerated in Hyndburn.

"By working together with Hyndburn Community Safety partnership, we are providing additional support for victims and encouraging them to come forward so that we can more effectively prosecute offenders.

"These red cards are a fun and innovative way for us to get a serious message across to the people of Hyndburn. I urge the public to join us in showing domestic violence the red card."